---
Resources
Art, Cuisine, Famous Italians, Festivals, Folklore, Genealogy, Holidays, Hotels, Photos, Real Estate, Sports, Travel and More
---
Guides
---
Surname Collection
Add your name to the collection.
---
Recipes
Authentic Italian recipes for you to enjoy.
---
Photo Galleries
Enjoy photos of Italy, wine making & more.
---
Proverbi
Proverbs in Italian & English.
---
Our Paesani
Weekly column dedicated to today's Italy.
by Francesca Di Meglio
---
Italian Memories
Articles on growing up Italian.
by Cookie Curci
---
Una Mamma Italiana
Articles for Italian mammas.
by Tiffany Longo
---
Learn Italian
English-Italian guides
Spanish-Italian guides.
---
Molto Italiano
Sign up for our FREE newsletter.
---
Trivia
Test your knowledge of Italy.
---
Il Novellino
XXV
How the Sultan gave two hundred marks to a man and how his treasurer wrote down the entry in his presence
Saladin1 was a most noble lord, brave and generous. Once he gave two hundred marks to a man who had given him a basket of winter roses grown in a hot-house. His treasurer wrote down the sum in his presence, and through a slip of the pen he wrote three hundred marks. Saladin said: what are you doing? The treasurer answered: Sire, I have blundered, and he was about to cancel the surplus. Then Saladin spoke: do not cancel it; write four hundred instead. It would be ill for me were your pen more generous than I.
This Saladin, at the time of his sultanate, ordered a truce between himself and the Christians, and said he would like to behold our customs, and if they pleased him, he would become a Christian.
The truce was made.
Saladin came in person to study the habits of the Christians; he beheld the tables set for eating with dazzlingly white cloths, and he praised them exceedingly.
And he beheld the disposition of the table where the King of France ate, set apart from the others.
And he praised it highly. He saw the places where the great ones of the realm ate, and he praised them highly.
He saw how the poor ate on the ground in humility, and this he disapproved greatly.
Moreover, he blamed them for that the lord's friends ate more lowly and further down the table.
Then the Christians went to see the customs of the Saracens, and saw that they ate on the ground grossly.
The Sultan had his pavilion, where they ate, richly draped and the ground covered with carpets which were closely worked with crosses.
The stupid Christians entered, stepping with their feet on these crosses and spitting upon them as on the ground.
Then the Sultan spoke and took them to task harshly: do you preach the Cross and scorn it thus? It would seem then that you love your God only with show of words and not with deeds. Your behaviour and your manners do not meet with my liking.
The truce was broken off, and the war began again.2
1 Selah-eddyn (1137-93), Sultan of Egypt, after 1174 famous throughout medieval Christendom for his knightliness. He is one of the chief characters of Scott's Talisman.
2 The second part of this tale is to be found in the Cronaca of Turpino, and in F. Sacchctti's 125th tale.
---
---
---
Storer, Edward, trans. Il Novellino: The Hundred Old Tales. London: G. Routledge & Sons Ltd.; New York: E. P. Dutton & Co., [1925]. 85-87
---
| | |
| --- | --- |
| | |
| | |
Follow Us
Featured Item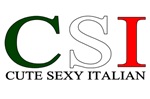 Shirts & Novelties
---
Partner Links Shops/Stores Italiansrus Gear
Proudly display the colors of Italy with these great products.

FORZIERI.com

The world largest online retailer for Premium Italian Fashions.
---
Travel Tour Italy
Customize your trip to Italy.