---
Resources
Art, Cuisine, Famous Italians, Festivals, Folklore, Genealogy, Holidays, Hotels, Photos, Real Estate, Sports, Travel and More
---
Guides
---
Surname Collection
Add your name to the collection.
---
Recipes
Authentic Italian recipes for you to enjoy.
---
Photo Galleries
Enjoy photos of Italy, wine making & more.
---
Proverbi
Proverbs in Italian & English.
---
Our Paesani
Weekly column dedicated to today's Italy.
by Francesca Di Meglio
---
Italian Memories
Articles on growing up Italian.
by Cookie Curci
---
Una Mamma Italiana
Articles for Italian mammas.
by Tiffany Longo
---
Learn Italian
English-Italian guides
Spanish-Italian guides.
---
Molto Italiano
Sign up for our FREE newsletter.
---
Trivia
Test your knowledge of Italy.
---
Il Novellino
XXIV
How the Emperor Frederick put a question to two wise men, and how he rewarded them.
The Emperor Frederick had two exceedingly wise men about him ; one was called Bolgaro the other Martino.1
One day the Emperor was in the company of these two wise men, one of them on his right hand, and the other on his left.
And the Emperor put a question to them and said : can I give to any one of my subjects and take away from another, according to my will and without other cause? Since I am their lord, and the law says that what pleases the lord shall be law to his subjects. Say then whether I may do this, since such is my pleasure.
One of the two wise men replied: Sire, whatever is your pleasure, that you may do to your subjects without causing wrong.
The other sage answered and said : to me it seems not, since the law is utterly just, and its conditions must be observed and followed with an extreme nicety. When you take away, it should be known from whom and also to whom you give.
Since both of the wise men spoke the truth, he offered gifts to both. To the one he gave a scarlet hat and a white palfrey; and to the other he gave the right to make a law to please his fancy.
Whence there arose a great discussion among the learned as to which of the two he had given the richer present.
It was held that to him who had said he could give and take away as it pleased him he had given clothing and a palfrey as to a minstrel because he had flattered him. To him who followed justice, he gave the right to make a law.
1 The incident is apparently historical, and the Emperor, is Barbarossa. The wise men or savi being Bolgaro or Bulgaro and Martino, sometimes called Gossia. The story seems to confuse two separate episodes in the life of the Emperor. The titles arc different in the versions of Gualteruzzi and Borghini.
---
---
---
Storer, Edward, trans. Il Novellino: The Hundred Old Tales. London: G. Routledge & Sons Ltd.; New York: E. P. Dutton & Co., [1925]. 83-85
---
| | |
| --- | --- |
| | |
| | |
Follow Us
Featured Item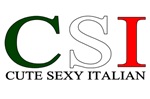 Shirts & Novelties
---
Partner Links Shops/Stores Italiansrus Gear
Proudly display the colors of Italy with these great products.

FORZIERI.com

The world largest online retailer for Premium Italian Fashions.
---
Travel Tour Italy
Customize your trip to Italy.