---
Resources
Art, Cuisine, Famous Italians, Festivals, Folklore, Genealogy, Holidays, Hotels, Photos, Real Estate, Sports, Travel and More
---
Guides
---
Surname Collection
Add your name to the collection.
---
Recipes
Authentic Italian recipes for you to enjoy.
---
Photo Galleries
Enjoy photos of Italy, wine making & more.
---
Proverbi
Proverbs in Italian & English.
---
Our Paesani
Weekly column dedicated to today's Italy.
by Francesca Di Meglio
---
Italian Memories
Articles on growing up Italian.
by Cookie Curci
---
Una Mamma Italiana
Articles for Italian mammas.
by Tiffany Longo
---
Learn Italian
English-Italian guides
Spanish-Italian guides.
---
Molto Italiano
Sign up for our FREE newsletter.
---
Trivia
Test your knowledge of Italy.
---
Il Novellino
XXIII
How the Emperor Frederick found a countryman at a fountain and asked leave to drink, and how he took away his drinking-cup
Once when the Emperor Frederick went hunting, dressed, as was his wont, in plain green, he came upon a countryman at a fountain who had spread a gleaming white cloth on the green grass, and had a cup made of tamerisk1 and a nice clean loaf of bread.2
The Emperor came up and asked leave to drink. The countryman replied : with what should I give you to drink? You shall not set your lips to this cup. If you have a drinking horn, I will gladly give you some wine.
The Emperor answered : lend me your cup, and I will drink so that it does not touch my mouth. And the countryman handed it to him, and he kept to his promise. He did not give it back though, but on the contrary, spurred his horse and ran off with the cup.
The countryman was confident that the man was one of the Emperor's knights.
The following day he went to the court. The Emperor told his servants if such and such a countryman come, let him in, and do not close the door to him. The countryman came. He appeared before the Emperor. He complained of the loss of his cup. The Emperor made him tell his story many times to his great amusement.
The barons listened to it with glee. And the Emperor said : would you recognise your cup? Yes, Sire. Then the Emperor drew forth the cup to show that it had been he in person.
Then the Emperor, because of the man's cleanliness, gave him rich gifts.
1 tamarix gallica, a wood supposed to have medicinal properties.
2 or else good clean food.
---
---
---
Storer, Edward, trans. Il Novellino: The Hundred Old Tales. London: G. Routledge & Sons Ltd.; New York: E. P. Dutton & Co., [1925]. 82-83
---
| | |
| --- | --- |
| | |
| | |
Follow Us
Featured Item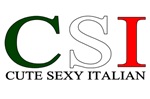 Shirts & Novelties
---
Partner Links Shops/Stores Italiansrus Gear
Proudly display the colors of Italy with these great products.

FORZIERI.com

The world largest online retailer for Premium Italian Fashions.
---
Travel Tour Italy
Customize your trip to Italy.