---
Resources
Art, Cuisine, Famous Italians, Festivals, Folklore, Genealogy, Holidays, Hotels, Photos, Real Estate, Sports, Travel and More
---
Guides
---
Surname Collection
Add your name to the collection.
---
Recipes
Authentic Italian recipes for you to enjoy.
---
Photo Galleries
Enjoy photos of Italy, wine making & more.
---
Proverbi
Proverbs in Italian & English.
---
Our Paesani
Weekly column dedicated to today's Italy.
by Francesca Di Meglio
---
Italian Memories
Articles on growing up Italian.
by Cookie Curci
---
Una Mamma Italiana
Articles for Italian mammas.
by Tiffany Longo
---
Learn Italian
English-Italian guides
Spanish-Italian guides.
---
Molto Italiano
Sign up for our FREE newsletter.
---
Trivia
Test your knowledge of Italy.
---
Il Novellino
XXII
How the Emperor Frederick's goshawk escaped to Milan
While the Emperor Frederick was besieging Milan, one of his goshawks escaped and flew into Milan. He sent ambassadors to claim it.
The councillors called a meeting. There were very many speeches. All agreed that it would be greater courtesy to send it back than to keep it.
A very old citizen of Milan advised the authorities and spoke thus: we hold the goshawk as if it were the Emperor, so we shall make him repent of what he has done to the dominions of Milan. Therefore I urge that it should not be returned to him.1
The ambassadors went back and told how the council had gone.
When the Emperor heard this, he said : how came that to pass? Was there anyone in Milan to contradict the proposal of the council? And the ambassadors said : yes Sire, there was. And what manner of man was he? Sire, he was an old man.
It cannot be, replied the Emperor that an old man could make so vile a speech. None the less, Sire, so it was. Tell me, said the Emperor, what manner of man he was and how garbed. Sire, his hair was white, and his coat was striped.2
It may well be, said the Emperor, that since his coat was striped he was a madman.
1 An immense importance was attached to a good hawk at this time.
2 To wear striped cloth was considered unsuitable for a serious man. Fantastic clothing of almost any kind was, the property of the court buffoons, story-tellers and the whole world of mediæval Bohemianism.
---
---
---
Storer, Edward, trans. Il Novellino: The Hundred Old Tales. London: G. Routledge & Sons Ltd.; New York: E. P. Dutton & Co., [1925]. 80-81
---
| | |
| --- | --- |
| | |
| | |
Follow Us
Featured Item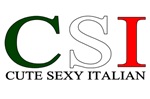 Shirts & Novelties
---
Partner Links Shops/Stores Italiansrus Gear
Proudly display the colors of Italy with these great products.

FORZIERI.com

The world largest online retailer for Premium Italian Fashions.
---
Travel Tour Italy
Customize your trip to Italy.