---
Resources
Art, Cuisine, Famous Italians, Festivals, Folklore, Genealogy, Holidays, Hotels, Photos, Real Estate, Sports, Travel and More
---
Guides
---
Surname Collection
Add your name to the collection.
---
Recipes
Authentic Italian recipes for you to enjoy.
---
Photo Galleries
Enjoy photos of Italy, wine making & more.
---
Proverbi
Proverbs in Italian & English.
---
Our Paesani
Weekly column dedicated to today's Italy.
by Francesca Di Meglio
---
Italian Memories
Articles on growing up Italian.
by Cookie Curci
---
Una Mamma Italiana
Articles for Italian mammas.
by Tiffany Longo
---
Learn Italian
English-Italian guides
Spanish-Italian guides.
---
Molto Italiano
Sign up for our FREE newsletter.
---
Trivia
Test your knowledge of Italy.
---
Il Novellino
II
Of the rich embassy which Prester John sent to the noble Emperor Frederick
Prester John,1 most noble Indian lord, sent a rich and honourable embassy to the noble and powerful Emperor Frederick, he who was in truth a mirror to the world in matters of speech and manners, who delighted generally in fair speech and sought ever to return wise answers. The substance and intention of that embassy lay in two things alone, to prove at all hazards, if the Emperor were wise both in word and in act.
So Prester John sent him by his ambassadors three most precious stones, and said to the ambassadors : question the Emperor and ask him on my behalf to tell you what is the best thing in the world. And take good notice of his answers and speech, and study well his court and its customs, and of what you shall learn bring me word, omitting nothing at all.
And when they came to the Emperor to whom they had been sent by their master, they greeted him in a manner suitable to his majesty, and on behalf of their master, whom we have named, they gave him the precious stones. The Emperor took them, asking nothing of their worth. He ordered them to be taken charge of, and praised their exceeding beauty. The ambassadors asked their questions, and beheld the court and its customs.
Then after a few days, they asked permission to return. The Emperor gave them his answer and said : tell your master that the best thing in this world is moderation.
The ambassadors went away and related to their master what they had seen and heard, praising mightily the Emperor's court with its fine customs and the manners of its knights.
Prester John, hearing the account of his ambassadors, praised the Emperor and said that he was very wise in speech but not in deed, since he had not asked the value of the precious stones. He sent back his ambassadors with the offer that if it should please the Emperor they should become senechals2 of his court. And he made them count his riches and the number and quality of his subjects and the manners of his country.
After some time, Prester John, thinking that the gems he had given the Emperor had lost their value, since the Emperor was ignorant of their worth, called a favourite lapidary of his and sent him in secret to the Emperor's court; saying to him : seek you in every way to bring me back those stones, whatever it may cost.
The lapidary set out, bearing with him many stones of rare beauty, and began to show them at the court. The barons and the knights came to admire his arts. And the man proved himself very clever. When he saw that one of his visitors had an office at the court, he did not sell, but gave away, and so many rings did he give away that his fame reached the Emperor. The latter sent for him, and showed him his own stones. The lapidary praised them, but temperately. He asked the Emperor if he possessed still more precious stones. Then the Emperor brought forth the three fine gems which the lapidary was anxious to see. Then the lapidary grew exultant, and taking one of the stones, held it in his hand and said : this gem. Sire, is worth the finest city in your land. Then he took up another and said : this gem, Sire, is worth the finest of your provinces. Then he took up the third gem and said : Sire, this stone is worth more than all your empire. He closed his hand on the gems, and the virtue in one of them rendered him invisible,3 so that none could see him, and down the steps of the palace he went, and returned to his lord. Prester John, and presented him with the stones wiih great joy.
1 Presto Giovanni in orig. This Prester John or Prester Kan is the hero of many stories and fables. See Marco Polo.
2 Administrators, sometimes treasurers of a court.
3 The ancients believed that certain stones and one especially called the heliotrope, had the power of rendering a person invisible.
---
---
---
Storer, Edward, trans. Il Novellino: The Hundred Old Tales. London: G. Routledge & Sons Ltd.; New York: E. P. Dutton & Co., [1925]. 37-40
---
| | |
| --- | --- |
| | |
| | |
Follow Us
Featured Item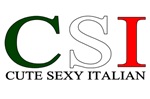 Shirts & Novelties
---
Partner Links Shops/Stores Italiansrus Gear
Proudly display the colors of Italy with these great products.

FORZIERI.com

The world largest online retailer for Premium Italian Fashions.
---
Travel Tour Italy
Customize your trip to Italy.