---
Resources
Art, Cuisine, Famous Italians, Festivals, Folklore, Genealogy, Holidays, Hotels, Photos, Real Estate, Sports, Travel and More
---
Guides
---
Surname Collection
Add your name to the collection.
---
Recipes
Authentic Italian recipes for you to enjoy.
---
Photo Galleries
Enjoy photos of Italy, wine making & more.
---
Proverbi
Proverbs in Italian & English.
---
Our Paesani
Weekly column dedicated to today's Italy.
by Francesca Di Meglio
---
Italian Memories
Articles on growing up Italian.
by Cookie Curci
---
Una Mamma Italiana
Articles for Italian mammas.
by Tiffany Longo
---
Learn Italian
English-Italian guides
Spanish-Italian guides.
---
Molto Italiano
Sign up for our FREE newsletter.
---
Trivia
Test your knowledge of Italy.
---
Il Novellino
XIX
Of the great generosity and courtesy of the Young King
We read of the valour1 of the Young King2 in rivalry with his father through the offices of Beltram.3
This Beltram boasted that he had more sense than anyone else. Whence many judgments came into being, some of which are written here.
Beltram plotted with the Young King that he should persuade his father to give him his share of inheritance. And so insistent was the son that he gained his request. And he gave all away to gentlefolk and to poor knights, so that nothing remained to him and he had no more to give away.
A court player asked him for a gift. He replied that he had given all away, but this only is left me,4 a bad tooth, and my father has promised two thousand marks to whomsoever shall prevail on me to have it taken out. Go to my father and make him give you the marks, and I will draw the tooth from my mouth at your request.
The minstrel went to the father and had the marks, and the son drew out his tooth.
On another occasion it happened that he gave two hundred marks to a gentleman. The seneschal or treasurer took the marks, and laid a carpet in a room and placed the marks beneath it, together with a bundle of cloth so that the whole should seem larger.
And the Young King going through the room, the treasurer showed him the pile saying : Sire, see how you dispense your gifts. You see what a large sum is two hundred marks, which seem nothing to you.
And the Young King looked and said : that seems little enough to me to give to so valiant a man. Give him four hundred, for I thought two hundred marks much more than they seem now I see them.5
1 bontà in original–goodness.
2 The young King was Henry, eldest son of Henry II of England. He was often known under this title.
3 Beltram, or Bertrand di Born.
4 This change from indirect to direct narrative occurs frequently in the Novellino.
5 The story of the tooth appears also in Conti di antichi cavalieri.
---
---
---
Storer, Edward, trans. Il Novellino: The Hundred Old Tales. London: G. Routledge & Sons Ltd.; New York: E. P. Dutton & Co., [1925]. 70-72
---
| | |
| --- | --- |
| | |
| | |
Follow Us
Featured Item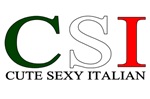 Shirts & Novelties
---
Partner Links Shops/Stores Italiansrus Gear
Proudly display the colors of Italy with these great products.

FORZIERI.com

The world largest online retailer for Premium Italian Fashions.
---
Travel Tour Italy
Customize your trip to Italy.