---
Resources
Art, Cuisine, Famous Italians, Festivals, Folklore, Genealogy, Holidays, Hotels, Photos, Real Estate, Sports, Travel and More
---
Guides
---
Surname Collection
Add your name to the collection.
---
Recipes
Authentic Italian recipes for you to enjoy.
---
Photo Galleries
Enjoy photos of Italy, wine making & more.
---
Proverbi
Proverbs in Italian & English.
---
Our Paesani
Weekly column dedicated to today's Italy.
by Francesca Di Meglio
---
Italian Memories
Articles on growing up Italian.
by Cookie Curci
---
Una Mamma Italiana
Articles for Italian mammas.
by Tiffany Longo
---
Learn Italian
English-Italian guides
Spanish-Italian guides.
---
Molto Italiano
Sign up for our FREE newsletter.
---
Trivia
Test your knowledge of Italy.
---
Il Novellino
XVIII
Of the judgment of God on a baron of Charlemagne
Charlemagne came to the point of death while fighting the Saracens in the field, and made his testament.
Among other things he left his horse and his arms to the poor. And he left them in charge of a baron of his that he should sell them, and give the money to the poor.
The baron kept them, however, instead of obeying. Charlemagne appeared to him and said : you have made me suffer eight generations of torment in purgatory on account of the horse and the arms which you received. But thanks be to God, I now go, purged of my sins, to heaven and you will pay dearly for your act.
Whereat, in the presence of a hundred thousand people, there descended a thunderbolt from the sky, and bore the baron away to hell.1
1 Biagi's version is a little more elaborate. The origin of the tale is to be found in the Pseudo-Turpino. See Gaspary, History of Italian Literature.
---
---
---
Storer, Edward, trans. Il Novellino: The Hundred Old Tales. London: G. Routledge & Sons Ltd.; New York: E. P. Dutton & Co., [1925]. 69-70
---
| | |
| --- | --- |
| | |
| | |
Follow Us
Featured Item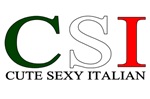 Shirts & Novelties
---
Partner Links Shops/Stores Italiansrus Gear
Proudly display the colors of Italy with these great products.

FORZIERI.com

The world largest online retailer for Premium Italian Fashions.
---
Travel Tour Italy
Customize your trip to Italy.