---
Resources
Art, Cuisine, Famous Italians, Festivals, Folklore, Genealogy, Holidays, Hotels, Photos, Real Estate, Sports, Travel and More
---
Guides
---
Surname Collection
Add your name to the collection.
---
Recipes
Authentic Italian recipes for you to enjoy.
---
Photo Galleries
Enjoy photos of Italy, wine making & more.
---
Proverbi
Proverbs in Italian & English.
---
Our Paesani
Weekly column dedicated to today's Italy.
by Francesca Di Meglio
---
Italian Memories
Articles on growing up Italian.
by Cookie Curci
---
Una Mamma Italiana
Articles for Italian mammas.
by Tiffany Longo
---
Learn Italian
English-Italian guides
Spanish-Italian guides.
---
Molto Italiano
Sign up for our FREE newsletter.
---
Trivia
Test your knowledge of Italy.
---
Il Novellino
XII
Here it is told of the honour that Aminadab did to King David, his rightful lord
Aminadab, general and marshall of King David, went with a vast army of men by order of King David to a city of the Philistines.2
Aminadab hearing that the city would not resist long, and would soon be his, sent to King David, asking if it were his pleasure to come to the field of battle with many men, for he feared the issue of the battle.
King David started out hurriedly and went to the battlefield, and asked his marshall Aminadab : why have you made me come here?
Aminadab answered : Sire, since the city cannot resist longer, I wished that the glory of the victory should come to your person rather than that I should have it.
He stormed the city, and conquered it, and the glory and honour were David's.2
1 The city was Rabba and belonged to the Ammonites.
2 See Kings II, chap xii. The compilator has mixed up the names, confounding Aminadab with Joab. The errors or variations occuring in the Biblical themes treated in the Novellino have given rise to the conjecture that the stories were taken from a book of Jewish legends, the Midras Rabbolh written not later than the VIIIth century.
---
---
---
Storer, Edward, trans. Il Novellino: The Hundred Old Tales. London: G. Routledge & Sons Ltd.; New York: E. P. Dutton & Co., [1925]. 64-65
---
| | |
| --- | --- |
| | |
| | |
Follow Us
Featured Item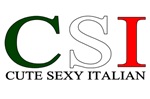 Shirts & Novelties
---
Partner Links Shops/Stores Italiansrus Gear
Proudly display the colors of Italy with these great products.

FORZIERI.com

The world largest online retailer for Premium Italian Fashions.
---
Travel Tour Italy
Customize your trip to Italy.