---
Resources
Art, Cuisine, Famous Italians, Festivals, Folklore, Genealogy, Holidays, Hotels, Photos, Real Estate, Sports, Travel and More
---
Guides
---
Surname Collection
Add your name to the collection.
---
Recipes
Authentic Italian recipes for you to enjoy.
---
Photo Galleries
Enjoy photos of Italy, wine making & more.
---
Proverbi
Proverbs in Italian & English.
---
Our Paesani
Weekly column dedicated to today's Italy.
by Francesca Di Meglio
---
Italian Memories
Articles on growing up Italian.
by Cookie Curci
---
Una Mamma Italiana
Articles for Italian mammas.
by Tiffany Longo
---
Learn Italian
English-Italian guides
Spanish-Italian guides.
---
Molto Italiano
Sign up for our FREE newsletter.
---
Trivia
Test your knowledge of Italy.
---
Il Novellino
X
Here it is told of a fine judgment given by the slave of Bari in a dispute between a townsman and a pilgrim
A townsman of Bari went on a pilgrimage, and left three hundred byzantines1 to a friend on these conditions : I shall make my journey as God wills, and should I not return you will give this money for the salvation of my soul, but if I return within a certain time, you shall return me the money, keeping back what you will. The pilgrim went on his pilgrimage, came back at the established time and demanded his byzantines back.
His friend said: tell me over the pact again. The wanderer told it over again. You say well, quoth the friend: ten byzantines I give back to you, and two hundred and ninety I keep for myself.
The pilgrim began to get angry. What kind of faith is this? You take away from me wrongfully what is mine.
The friend replied calmly: I do you no wrong, but if you think I do, let us go before the governors of the city. A law-suit ensued.
The Slave of Bari was the judge,2 and heard both sides. He formulated the argument, and to him who held the money he said: give back the two hundred and ninety byzantines to the pilgrim, and the pilgrim must give you back the ten you handed him. For the pact was so; what you want you will give to me. Therefore the two hundred and ninety which you want, give them to him, and the ten you do not want, take them.
1 Ancient gold money of the Eastern Empire of about the same value as a ducat. It changed naturally in the course of the centuries.
2 According to Malaspina, the Slave of the Bari was "an idiot or almost one, unlettered and unread, but of great natural talent, wit and wisdom". Ambrosoli, on the contrary, asserts that he was a certain Michele Schiavo who was a Greek governor of Bari in the tenth century.
---
---
---
Storer, Edward, trans. Il Novellino: The Hundred Old Tales. London: G. Routledge & Sons Ltd.; New York: E. P. Dutton & Co., [1925]. 61-63
---
| | |
| --- | --- |
| | |
| | |
Follow Us
Featured Item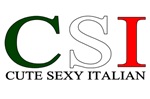 Shirts & Novelties
---
Partner Links Shops/Stores Italiansrus Gear
Proudly display the colors of Italy with these great products.

FORZIERI.com

The world largest online retailer for Premium Italian Fashions.
---
Travel Tour Italy
Customize your trip to Italy.