---
Resources
Art, Cuisine, Famous Italians, Festivals, Folklore, Genealogy, Holidays, Hotels, Photos, Real Estate, Sports, Travel and More
---
Guides
---
Surname Collection
Add your name to the collection.
---
Recipes
Authentic Italian recipes for you to enjoy.
---
Photo Galleries
Enjoy photos of Italy, wine making & more.
---
Proverbi
Proverbs in Italian & English.
---
Our Paesani
Weekly column dedicated to today's Italy.
by Francesca Di Meglio
---
Italian Memories
Articles on growing up Italian.
by Cookie Curci
---
Una Mamma Italiana
Articles for Italian mammas.
by Tiffany Longo
---
Learn Italian
English-Italian guides
Spanish-Italian guides.
---
Molto Italiano
Sign up for our FREE newsletter.
---
Trivia
Test your knowledge of Italy.
---
Il Novellino
This book treats of flowers of speech, of fine courtesies and replies, of valiant actions and gifts, such as in time gone by have been made by noble men.

I
Proem
When Our Lord Jesus Christ spoke with us in human form, he said among other things, that the tongue speaks from the fulness of the heart.
You who have gentle and noble hearts above other men, shape your minds and your words to the pleasure of God, speaking of honouring and fearing Our Lord who loved us even before He created us, and before we ourselves loved Him. And if in certain ways we may, without giving Him displeasure, speak for the gladdening of our bodies, and to give ourselves aid and support, let it be done with all the grace and courtesy that may be.
And since the noble and the gentle in their words and deeds are as a mirror for the lower folks, for that their speech is more gracious, coming from a more delicate instrument, let us call back to memory some flowers of speech, such fair courtesies and fine replies, valiant actions and noble gifts as have in time gone by been compassed by many.
So whosoever has a noble heart and fine intelligence may imitate in time to come, and tell and make argument about them, when just occasion offers, for the use and delight of such as know them not and fain would know.
If the flowers of speech we offer you be mixed with other words, be not displeased, for black is an ornament to gold, and a fair and delicate fruit may sometimes adorn a whole orchard ; a few lovely flowers an entire garden.
Nor should the many readers who have lived long without scarcely uttering a fine phrase or contributing anything of merit by their speech take offence herein.
---
---
---
Storer, Edward, trans. Il Novellino: The Hundred Old Tales. London: G. Routledge & Sons Ltd.; New York: E. P. Dutton & Co., [1925]. 35-36
---
| | |
| --- | --- |
| | |
| | |
Follow Us
Featured Item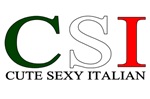 Shirts & Novelties
---
Partner Links Shops/Stores Italiansrus Gear
Proudly display the colors of Italy with these great products.

FORZIERI.com

The world largest online retailer for Premium Italian Fashions.
---
Travel Tour Italy
Customize your trip to Italy.