---
Resources
Art, Cuisine, Famous Italians, Festivals, Folklore, Genealogy, Holidays, Hotels, Photos, Real Estate, Sports, Travel and More
---
Guides
---
Surname Collection
Add your name to the collection.
---
Recipes
Authentic Italian recipes for you to enjoy.
---
Photo Galleries
Enjoy photos of Italy, wine making & more.
---
Proverbi
Proverbs in Italian & English.
---
Our Paesani
Weekly column dedicated to today's Italy.
by Francesca Di Meglio
---
Italian Memories
Articles on growing up Italian.
by Cookie Curci
---
Una Mamma Italiana
Articles for Italian mammas.
by Tiffany Longo
---
Learn Italian
English-Italian guides
Spanish-Italian guides.
---
Molto Italiano
Sign up for our FREE newsletter.
---
Trivia
Test your knowledge of Italy.
---
The Imp in the Mirror
A Fable for Mary
Page 3
Continued from page 2

"My dear general, what have you been doing to your cheek, to make it so red?"

Immediately, all the other guests of the male sex, remembering that they also must have one red cheek, each instinctively raised a hand to his face. The countess laughed; then one of the young men laughed, then another, then a third; then followed a general burst of merriment. Now that the ice was broken, the countess laid the facts before the other two ladies, and all three wished to know the wherefore of this extraordinary epidemic.

"For my part," replied the poet, "I need only tell you that a friend of my childhood, the Duchess Y., who has been like a sister to me, must have been biting the point of her pencil to-day; for, just before I came here, I met her at the railway station, and she kissed me, precisely where the spot was, on my cheek."

"I, on the contrary," said the judge, "think that I must have been stained with the hair dye of the Cabinet Minister R. He was in Milan to-day, and sent for me on a matter of the greatest importance. We are old friends; and he, in his familiar way, pinched my cheek between his thumb and forefinger. Since he uses hair-dye, it is most likely that his fingers were soiled with it."

"As for me," said the lieutenant, quite forgetting the story that he had already told of the gloves that shed their color," I had promised an aquarelle to Sarah Bernhardt, and I worked upon it up to the last moment, because she was in a hurry for it. Of course I must have spattered my face with the India ink."

"I," said the composer in his turn, "was just setting forth, when an idea came to me for the prelude to my fourth act—a lightning flash, you know, really and truly. I may say so, because I claim no credit for it; good ideas come to me just like that, mysteriously. I ran back, to jot down half a dozen bars, and undoubtedly in the excitement of writing them out, I must have daubed my face."

"It was like this," said the general, who was past his sixtieth year, "I take a great deal of exercise every day. At five o'clock this morning, I pulled myself up to the chin a number of times on the flying rings. It is quite likely that one of those rings was not clean and that I rubbed my face against it."

"I really do not understand how such a thing could have happened to me," said one of the young men of fashion. "It was this very day, not half an hour ago, that I used Shetland soap, an English toilet novelty, imported from London expressly for me, and which probably no one else in Milan knows about."

"Oh, I say! I say!" exclaimed two of his companions, "Didn't I get a cake yesterday? Didn't I get one the day before?"

"In that case," replied the first speaker, "there must have been some impurity in the Shetland soap!"

"That couldn't be!" exclaimed the fourth, the one who had made his toilet outside the door, "because I also use Shetland soap, and I have no reason to believe that there is any stain on my face. Look and see!"

Return to Italian Folktales Page
---
---
---
Spanish, Italian & Oriental Tales: Including Stories by I. M. Palmarini, Camillo Boito Antonio Fogazzaro and Pedro De Alarcon. New York: Harper & Brothers Publisher, 1909. 98-104
---
| | |
| --- | --- |
| | |
| | |
Follow Us
Featured Item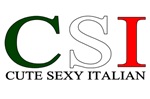 Shirts & Novelties
---
Partner Links Shops/Stores Italiansrus Gear
Proudly display the colors of Italy with these great products.

FORZIERI.com

The world largest online retailer for Premium Italian Fashions.
---
Travel