---
Resources
Art, Cuisine, Famous Italians, Festivals, Folklore, Genealogy, Holidays, Hotels, Photos, Real Estate, Sports, Travel and More
---
Guides
---
Surname Collection
Add your name to the collection.
---
Recipes
Authentic Italian recipes for you to enjoy.
---
Photo Galleries
Enjoy photos of Italy, wine making & more.
---
Proverbi
Proverbs in Italian & English.
---
Our Paesani
Weekly column dedicated to today's Italy.
by Francesca Di Meglio
---
Italian Memories
Articles on growing up Italian.
by Cookie Curci
---
Una Mamma Italiana
Articles for Italian mammas.
by Tiffany Longo
---
Learn Italian
English-Italian guides
Spanish-Italian guides.
---
Molto Italiano
Sign up for our FREE newsletter.
---
Trivia
Test your knowledge of Italy.
---
The Imp in the Mirror
A Fable for Mary
Page 2
Continued from page 1

"Quick, for goodness' sake! get me a towel and some water!"

The butler led him into another bedchamber and poured him out some water. Another ring. This time it was the lieutenant, who said, holding one hand over his face:

"I am very sorry, but I have a pair of gloves the color of which rubs off. Is there any water?"

The servant, marveling greatly, led him into a third bedchamber. The bell sounded for the fourth time. It proved to be the musician, who said brusquely:

"Some water! Show me into a private room."

"Excuse me, sir," replied the butler stiffly, "but there are already three gentlemen washing themselves in three different rooms, and there is not another one vacant excepting the countess' own bedchamber. With your permission, I shall bring the water and towel out here."

"Bring them," replied the composer. The butler went and returned with the water and a towel. The other scrubbed his face and then examined the towel, to see if it was soiled ; and since the towel still remained quite clean, he scrubbed and looked, scrubbed and looked, and scrubbed again, with desperate energy. Still another pull at the door-bell. It was the famous poet, who entered in time to see his friend still violently scrubbing, and he said, "Bravo! Splendid! Just what I need myself!"

"Is my face clean?" demanded the other, turning his cheek for inspection.

"Perfectly."

The composer, delighted, passed in, to greet the countess, and there found the other ladies and the general. Next the bell was rung three successive times, by three of the young men of fashion, each of whom desired water, towels, and soap besides. The butler, with a great effort, refrained from laughing, and knew not where to turn next; his supply of towels having given out, he must needs obtain some from the housekeeper, and he hurried off to find her. The housekeeper lost her temper; and meanwhile, the front door-bell rang again, and no one opened the door. The countess also rang for someone to open it. Presently she rang again, and still no one answered. At last she arose and went out herself, to call her servants. Meanwhile the fourth of the fashionable young men, who was waiting outside the entrance, absorbed in the thought of a stain upon his cheek, heard the voice of his hostess; and fearing that he should meet her in the vestibule, he moistened his handkerchief with his tongue, and making sure that there was no one to see him commit the impropriety, scrubbed his left cheek as energetically as all the others had done. At last all the guests were assembled in the parlor; and the countess, who meanwhile had gathered some of the facts from her butler, said with, a smile:

Return to Italian Folktales Page
---
---
---
Spanish, Italian & Oriental Tales: Including Stories by I. M. Palmarini, Camillo Boito Antonio Fogazzaro and Pedro De Alarcon. New York: Harper & Brothers Publisher, 1909. 98-104
---
| | |
| --- | --- |
| | |
| | |
Follow Us
Featured Item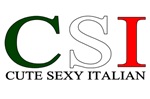 Shirts & Novelties
---
Partner Links Shops/Stores Italiansrus Gear
Proudly display the colors of Italy with these great products.

Italian Charms

Huge selection of Italian charms and jewelry. FORZIERI.com

The world largest online retailer for Premium Italian Fashions.
---
Cuisine/Food CyberCucina.com
Fine gourmet foods and more. Gustobene.com
Use code Italiansruspromo to receive a 10% discount off your entire purchase.
---
Travel Tour Italy
Customize your trip to Italy.