---
Resources
Art, Cuisine, Famous Italians, Festivals, Folklore, Genealogy, Holidays, Hotels, Photos, Real Estate, Sports, Travel and More
---
Guides
---
Surname Collection
Add your name to the collection.
---
Recipes
Authentic Italian recipes for you to enjoy.
---
Photo Galleries
Enjoy photos of Italy, wine making & more.
---
Proverbi
Proverbs in Italian & English.
---
Our Paesani
Weekly column dedicated to today's Italy.
by Francesca Di Meglio
---
Italian Memories
Articles on growing up Italian.
by Cookie Curci
---
Una Mamma Italiana
Articles for Italian mammas.
by Tiffany Longo
---
Learn Italian
English-Italian guides
Spanish-Italian guides.
---
Molto Italiano
Sign up for our FREE newsletter.
---
Trivia
Test your knowledge of Italy.
---
Giotto (Giotto di Bondone1)
1267? - January 8, 1337
Part 5 of 6: Successors

The art of painting, as re-created by Giotto, was carried on throughout Italy by his pupils and successors with little change or development for nearly a hundred years, until a new impulse was given to art by the combined influences of naturalism and classicism in the hands of men like Donatello and Masaccio. Most of the anecdotes related of the master are probably inaccurate in detail, but the general character both as artist and man which tradition has agreed in giving him can never be assailed. He was from the first a kind of popular hero. He is celebrated by the poet Petrarch and by the historian Villani. He is made the subject of tales and anecdotes by Boccaccio and by Franco Sacchetti. From these notices, as well as from Vasari, we gain a distinct picture of the man, as one whose nature was in keeping with his country origin; whose sturdy frame and plain features corresponded to a character rather distinguished for shrewd and genial strength than for sublimer or more ascetic qualities; a master craftsman, to whose strong combining and inventing powers nothing came amiss; conscious of his own deserts, never at a loss either in the things of art or in the things of life, and equally ready and efficient whether he has to design the scheme of some great spiritual allegory in colour or imperishable monument in stone, or whether he has to show his wit in the encounter of practical jest and repartee. From his own hand we have a contribution to literature which helps to substantiate this conception of his character. A large part of Giotto's fame as painter was won in the service of the Franciscans, and in the pictorial celebration of the life and ordinances of their founder. As is well known, it was a part of the ordinances of Francis that his disciples should follow his own example in worshipping and being wedded to poverty, - poverty idealized and personified as a spiritual bride and mistress. Giotto, having on the commission of the order given the noblest pictorial embodiment to this and other aspects of the Franciscan doctrine, presently wrote an ode in which his own views on poverty are expressed; and in this he shows that, if on the one hand his genius was at the service of the ideals of his time, and his imagination open to their significance, on the other hand his judgment was shrewdly and humorously awake to their practical dangers and exaggerations.

Authorities. - Ghiberti, Commentari; Vasari, Le Vite, vol. i.; Crowe-Cavalcaselle, History of Painting in Italy, ed. Langton Douglas (1903); H. Thode, Giotto (1899); M. G. Zimmermann, Giotto and die Kunst Italiens im Mittelalter (1899); B. Berenson, Florentine Painters of the Renaissance; F. Mason Perkin, Giotto (in "Great Masters" series) (1902); Basil de Selincourt, Giotto (1905). (S. C.)

Part 6: Related Articles, Sites, etc.
---
---
1 Not to be confused with Giotto di Buondone, a contemporary citizen and politician of Siena.
---
This article incorporates text from the Encyclopædia Britannica Eleventh Edition, a publication now in the public domain.
---
| | |
| --- | --- |
| | |
| | |
Follow Us
Featured Item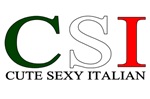 Shirts & Novelties
---
Partner Links Shops/Stores Italiansrus Gear
Proudly display the colors of Italy with these great products.

FORZIERI.com

The world largest online retailer for Premium Italian Fashions.
---
Travel Tour Italy
Customize your trip to Italy.