---
Resources
Art, Cuisine, Famous Italians, Festivals, Folklore, Genealogy, Holidays, Hotels, Photos, Real Estate, Sports, Travel and More
---
Guides
---
Surname Collection
Add your name to the collection.
---
Recipes
Authentic Italian recipes for you to enjoy.
---
Photo Galleries
Enjoy photos of Italy, wine making & more.
---
Proverbi
Proverbs in Italian & English.
---
Our Paesani
Weekly column dedicated to today's Italy.
by Francesca Di Meglio
---
Italian Memories
Articles on growing up Italian.
by Cookie Curci
---
Una Mamma Italiana
Articles for Italian mammas.
by Tiffany Longo
---
Learn Italian
English-Italian guides
Spanish-Italian guides.
---
Molto Italiano
Sign up for our FREE newsletter.
---
Trivia
Test your knowledge of Italy.
---
Giotto (Giotto di Bondone1)
1267? - January 8, 1337
Part 4 of 6: Later Years

Towards the end of Giotto's life we escape again from confused legend, and from the tantalizing record of works which have not survived for us to verify, into the region of authentic document and fact. It appears that Giotto had come under the notice of Duke Charles of Calabria, son of King Robert of Naples, during the visits of the duke to Florence which took place between 1326 and 1328, in which year he died. Soon afterwards Giotto must have gone to King Robert's court at Naples, where he was enrolled as an honoured guest and member of the household by a royal decree dated the 20th of January 1330. Another document shows him to have been still at Naples two years later.

Tradition says much about the friendship of the king for the painter and the freedom of speech and jest allowed him; much also of the works he carried out at Naples in the Castel Nuovo, the Castel dell' Uovo, and the church and convent of Sta Chiara. Not a trace of these works remains; and others which later criticism have claimed for him in a hall which formerly belonged to the convent of Sta Chiara have been proved not to be his.

Meantime Giotto had been advancing, not only in years and worldly fame, but in prosperity. He was married young, and had, so far as is recorded, three sons, Francesco, Niccola and Donato, and three daughters, Bice, Caterina and Lucia. He had added by successive purchases to the plot of land inherited from his father at Vespignano. His fellow-citizens of all occupations and degrees delighted to honour him. And now, in his sixtyeighth year (if we accept the birth-date 1266/7), on his return from Naples by way of Gaeta, he received the final and official testimony to the esteem in which he was held at Florence. By a solemn decree of the Priori on the 12th of April 1334, he was appointed master of the works of the cathedral of Sta Reparata (later and better known as Sta Maria del Fiore) and official architect of the city walls and the towns within her territory. What training as a practical architect his earlier career had afforded him we do not know, but his interest in the art from the beginning is made clear by the carefully studied architectural backgrounds of many of his frescoes. Dying on the 8th of January 1336 (old style 1337), Giotto only enjoyed his new dignities for two years. But in the course of them he had found time not only to make an excursion to Milan, on the invitation of Azzo Visconti and with the sanction of his own government, but to plan two great architectural works at Florence and superintend the beginning of their execution, namely the west front of the cathedral and its detached campanile or bell-tower. The unfinished enrichments of the cathedral front were stripped away in a later age. The foundation-stone of the Campanile was laid with solemn ceremony in the presence of a great concourse of magistrates and people on the 18th of July 1334. Its lower courses seem to have been completed from Giotto's design, and the first course of its sculptured ornaments (the famous series of primitive Arts and Industries) actually by his own hand, before his death. It is not clear what modifications of his design were made by Andrea Pisano, who was appointed to succeed him, or again by Francesco Talenti, to whom the work was next entrusted; but the incomparable structure as we now see it stands justly in the world's esteem as the most fitting monument to the genius who first conceived and directed it.

Part 5: Successors
---
---
1 Not to be confused with Giotto di Buondone, a contemporary citizen and politician of Siena.
---
This article incorporates text from the Encyclopædia Britannica Eleventh Edition, a publication now in the public domain.
---
| | |
| --- | --- |
| | |
| | |
Follow Us
Featured Item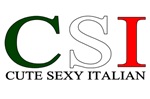 Shirts & Novelties
---
Partner Links Shops/Stores Italiansrus Gear
Proudly display the colors of Italy with these great products.

FORZIERI.com

The world largest online retailer for Premium Italian Fashions.
---
Travel Tour Italy
Customize your trip to Italy.