---
Resources
Art, Cuisine, Famous Italians, Festivals, Folklore, Genealogy, Holidays, Hotels, Photos, Real Estate, Sports, Travel and More
---
Guides
---
Surname Collection
Add your name to the collection.
---
Recipes
Authentic Italian recipes for you to enjoy.
---
Photo Galleries
Enjoy photos of Italy, wine making & more.
---
Proverbi
Proverbs in Italian & English.
---
Our Paesani
Weekly column dedicated to today's Italy.
by Francesca Di Meglio
---
Italian Memories
Articles on growing up Italian.
by Cookie Curci
---
Una Mamma Italiana
Articles for Italian mammas.
by Tiffany Longo
---
Learn Italian
English-Italian guides
Spanish-Italian guides.
---
Molto Italiano
Sign up for our FREE newsletter.
---
Trivia
Test your knowledge of Italy.
---
Giotto (Giotto di Bondone1)
1267? - January 8, 1337
Part 1 of 6: Early Years

Italian painter, was born at Vespignano in the Mugello, a few miles north of Florence, according to one account in 1276, and according to another, which from the few known circumstances of his life seems more likely to be correct, in 1266 or 1267. His father was a landowner at Colle in the commune of Vespignano, described in a contemporary document as vir praeclarus, but by biographers both early and late as a poor peasant; probably therefore a peasant proprietor of no large possessions but of reputable stock and descent. It is impossible to tell whether there is any truth in the legend of Giotto's boyhood which relates how he first showed his disposition for art, and attracted the attention of Cimabue, by being found drawing one of his father's sheep with a sharp stone on the face of a smooth stone or slate. With his father's consent, the story goes on, Cimabue carried off the boy to be his apprentice, and it was under Cimabue's tuition that Giotto took his first steps in the art of which he was afterwards to be the great emancipator and renovator. The place where these early steps can still, according to tradition, be traced, is in the first and second, reckoning downwards, of the three courses of frescoes which adorn the walls of the nave in the Upper Church of St Francis at Assisi. These frescoes represent subjects of the Old and New Testament, and great labour, too probably futile, has been spent in trying to pick out those in which the youthful handiwork of Giotto can be discerned, as it is imagined, among that of Cimabue and his other pupils. But the truth is that the figure of Cimabue himself, in spite of Dante's testimony to his having been the foremost painter of Italy until Giotto arose, has under the search-light of modern criticism melted into almost mythical vagueness. His accepted position as Giotto's instructor and the pioneer of reform in his art has been attacked from several sides as a mere invention of Florentine writers for the glorification of their own city. One group of critics maintain that the real advance in Tuscan painting before Giotto was the work of the Sienese school and not of the Florentine. Another group contend that the best painting done in Italy down to the last decade of the 13th century was not done by Tuscan hands at all, but by Roman craftsmen trained in the inherited principles of Italo-Byzantine decoration in mosaic and fresco, and that from such Roman craftsmen alone could Giotto have learnt anything worth his learning. The debate thus opened is far from closed, and considering how scanty, ambiguous and often defaced are the materials existing for discussion, it is perhaps never likely to be closed. But there is no debate as to the general nature of the reform effected by the genius of Giotto himself. He was the great humanizer of painting; it is his glory to have been the first among his countrymen to breathe life into wallpictures and altar-pieces, and to quicken the dead conventionalism of inherited practice with the fire of natural action and natural feeling. Upon yet another point there is no question; and that is that the reform thus effected by Giotto in painting had been anticipated in the sister art of sculpture by nearly a whole generation. About the middle of the 13th century Nicola Pisano had renewed that art, first by strict imitation of classical models, and later by infusing into his work a fresh spirit of nature and humanity, perhaps partly caught from the Gothic schools of France. His son Giovanni had carried the same re-vitalising of sculpture a great deal further; and hence to some critics it would seem that the real inspirer and precursor of Giotto was Giovanni Pisano the sculptor, and not any painter or walldecorator, whether of Florence, Siena or Rome.

Part 2: Paintings
---
---
1 Not to be confused with Giotto di Buondone, a contemporary citizen and politician of Siena.
---
This article incorporates text from the Encyclopædia Britannica Eleventh Edition, a publication now in the public domain.
---
| | |
| --- | --- |
| | |
| | |
Follow Us
Featured Item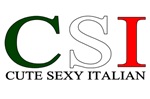 Shirts & Novelties
---
Partner Links Shops/Stores Italiansrus Gear
Proudly display the colors of Italy with these great products.

FORZIERI.com

The world largest online retailer for Premium Italian Fashions.
---
Travel Tour Italy
Customize your trip to Italy.