---
Resources
Art, Cuisine, Famous Italians, Festivals, Folklore, Genealogy, Holidays, Hotels, Photos, Real Estate, Sports, Travel and More
---
Guides
---
Surname Collection
Add your name to the collection.
---
Recipes
Authentic Italian recipes for you to enjoy.
---
Photo Galleries
Enjoy photos of Italy, wine making & more.
---
Proverbi
Proverbs in Italian & English.
---
Our Paesani
Weekly column dedicated to today's Italy.
by Francesca Di Meglio
---
Italian Memories
Articles on growing up Italian.
by Cookie Curci
---
Una Mamma Italiana
Articles for Italian mammas.
by Tiffany Longo
---
Learn Italian
English-Italian guides
Spanish-Italian guides.
---
Molto Italiano
Sign up for our FREE newsletter.
---
Trivia
Test your knowledge of Italy.
---
Saint Gemma Galgani
March 12, 1870 - April 11, 1903
Feastday: April 11

Stigmatic, born at Camigliano in Tuscany on 12 March, 1878; died 11 April, 1903. On her mother's side she was descended from the noble family of the Landi. Unfortunately, there was consumption in the whole family and for that reason, when Gemma was two years old she was cared for by two pious women named Vallini and remained with them till she was six. At the age of nine she made her First Communion and from that time her life was one of continual suffering. At the age of twenty the death of her father left her and the rest of the children in absolute destitution. She was at this time at the point of deith but was miraculously saved from the grave by the apparition of the Blessed Gabriel Possenti (canonized 1920). She was then taken into the household of a pious woman in spite of the menace to its members on account of her tuberculous condition. Her occupations were mostly of a menial character and entailed considerable mental as well as physical suffering, all of which contributed to her sanctification. She was the recipient of wonderful spiritual illuminations, ecstacies and visions, and on 8 June, 1899, was marked with the stigmata of the Passion on the hands, feet, head and heart, not permanently but at various intervals. Thenceforth her sufferings increased in intensity until her death. The cause of her beatification was introduced on 20 April, 1920.
---
Editor's Note:
Gemma was beatified in 1933 and canonized in 1940.
---
Additional Resources:
Famous Italians Italiansrus.com
Italian Saints Italiansrus.com
Saint Gemma Galgani
St. Gemma Galgani
---
Publication Information:
The Catholic Encyclopedia: an International Work of Reference on the Constitution, Doctrine, Discipline, and History of the Catholic Church, Volume XVII - Supplement I. New York: The Encyclopedia Press, Inc., 1922.
---
| | |
| --- | --- |
| | |
| | |
Follow Us
Featured Item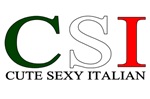 Shirts & Novelties
---
Partner Links Shops/Stores Italiansrus Gear
Proudly display the colors of Italy with these great products.

FORZIERI.com

The world largest online retailer for Premium Italian Fashions.
---
Travel Tour Italy
Customize your trip to Italy.