---
Resources
Art, Cuisine, Famous Italians, Festivals, Folklore, Genealogy, Holidays, Hotels, Photos, Real Estate, Sports, Travel and More
---
Guides
---
Surname Collection
Add your name to the collection.
---
Recipes
Authentic Italian recipes for you to enjoy.
---
Photo Galleries
Enjoy photos of Italy, wine making & more.
---
Proverbi
Proverbs in Italian & English.
---
Our Paesani
Weekly column dedicated to today's Italy.
by Francesca Di Meglio
---
Italian Memories
Articles on growing up Italian.
by Cookie Curci
---
Una Mamma Italiana
Articles for Italian mammas.
by Tiffany Longo
---
Learn Italian
English-Italian guides
Spanish-Italian guides.
---
Molto Italiano
Sign up for our FREE newsletter.
---
Trivia
Test your knowledge of Italy.
---
Homemade Wine
Part 2 of 2 - The Wine Making Process

When I told my Wife, Judy, that I was planning to do a feature on homemade wine she suggested I call my cousin, Sal Tommarello to see if he wouldn't mind if I joined them this year. Sal didn't hesitate for a second. He told me once the grapes would come in he would let me know when they would crush them.

I got the call and headed over to his brother Jerry's house. As my Mom did in the past, Sal Tommarello, Frank Cuda, Jay Stolz and myself had to wash and scrub all of the equipment before we could get started. Once this process was complete we set up the manual crusher over the barrel and began to crush the white grapes. The manual crusher was able to separate the stems from the grapes and keep them from going into the barrel. This was different than the electric crusher I was used to. Once everything was in position we started to crush the white grapes. Just as we started, Jerry came out with breakfast, which consisted of pecorino romano cheese, sopressata, bread and a tomato salad. Of course breakfast could not be complete without last years wine to enjoy. When breakfast was over we got back to work. Once the white grapes were done we had to take the manual crusher and wash it before we moved on to the red grapes. Frank, Jay and Jerry started to work on crushing the red grapes while Sal and I began taking the white grapes and pressing them. I had asked Sal why they did this with the white grapes. I recall us waiting a week or two before pressing the grapes. He told me that they had found that it was better to press the white grapes directly after you crushed them instead of waiting a week or two. They only did this process with the white grapes. The red grapes remained in the barrels for a week before we pressed them.

Once the week had passed we returned to Jerry's house to begin pressing the red grapes. Before we started to press the grapes we needed to wash out the 5 gallon glass jugs that we would use to pour the wine into. Once this process was done Jay started to fill the 5 gallon jugs with the white wine that sat in the barrel fermenting during the week. He was able to fill 6 jugs, which gave us 30 gallons of white wine. Once each jug was filled they were capped and placed in blue crates. While Jay was doing this we were busy pressing the red grapes and filling the 5 gallon jugs with red wine. Once the entire process was completed we ended up with 25 jugs. Each jug was capped and our work was done for the day.

Our work was done for the time being, but the wine wasn't ready to drink. The wine would remain in the jugs for a good month. At this time we would transfer the wine into various smaller bottles or jugs. This would help to eliminate any of the residue that settled to the bottom of the jugs during the month. Once this was done the wine was ready for us to drink.

I would like to thank Sal and Jerry for letting me take part in the wine making process. During my time making the wine I was able to take pictures of the entire process. I have put together a photo tour that shows the various steps used in making the wine. I hope you enjoy the pictures as much as I enjoyed making the wine.

Enjoy Your Tour!

Part 1: Family Memories
---
Related Information:
| | |
| --- | --- |
| | |
| | |
Follow Us
Featured Item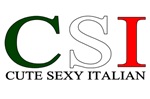 Shirts & Novelties
---
Partner Links Shops/Stores Italiansrus Gear
Proudly display the colors of Italy with these great products.

Italian Charms

Huge selection of Italian charms and jewelry. FORZIERI.com

The world largest online retailer for Premium Italian Fashions.
---
Cuisine/Food CyberCucina.com
Fine gourmet foods and more. Gustobene.com
Use code Italiansruspromo to receive a 10% discount off your entire purchase.
---
Travel Tour Italy
Customize your trip to Italy.