---
Resources
Art, Cuisine, Famous Italians, Festivals, Folklore, Genealogy, Holidays, Hotels, Photos, Real Estate, Sports, Travel and More
---
Guides
---
Surname Collection
Add your name to the collection.
---
Recipes
Authentic Italian recipes for you to enjoy.
---
Photo Galleries
Enjoy photos of Italy, wine making & more.
---
Proverbi
Proverbs in Italian & English.
---
Our Paesani
Weekly column dedicated to today's Italy.
by Francesca Di Meglio
---
Italian Memories
Articles on growing up Italian.
by Cookie Curci
---
Una Mamma Italiana
Articles for Italian mammas.
by Tiffany Longo
---
Learn Italian
English-Italian guides
Spanish-Italian guides.
---
Molto Italiano
Sign up for our FREE newsletter.
---
Trivia
Test your knowledge of Italy.
---
Trendy Beaches, Deceiving Witches
Page 3 of 3
Continued from page 2
By Marzia Volpones
"Could I rent a deck chair for today?" he was asking the bagnino. The activity, energy, hustle and bustle of the Riviera would make him feel more energetic and safer. Water, earth fire and air were less perilous to him here. Only the garbino was bringing a special scent a morbid flavour.

Lying on the Adriatic coast water is the life in which visitors can dive in, bathe, swim, windsurf, take a ride on a pedal boat, or simply walk along its fringes as the sun rises over the sea (water) from behind Gabicce promontory at dawn.

Water Sea Strand, forty five kms. of golden sandy beaches and a long unbroken chain of multicoloured beach umbrellas, create the perfect setting for an immense open -air theatre.

Back stage: the coloured mural paintings of the beach attendant's cabin (a sort of a one room bungalow used as reception desk, kitchen, safe for the clients belongings)

Front stage: the red raft of the vigilant lifeguard out at sea. Stage: on a daily "hovered" sand, deck chairs, vesting cabins, showers. Bars, restaurants, Jacuzzi tubs, fitness clubs, and kindergarten centres are the perfect choreography for this daily performance, whose customs are the trendiest bikini, up -to -date sunglasses.

"Can I rent a deck chair for today, Sir?" "Yea, sure. Nice day, ah!" was the warm answer of the bagnino (the beach attendant) standing in front of his cabin door. He is the main character of this performance. He holds sway, always extending a warm welcome to guests, friendly dispenser of advice, and pointer at any time of the day. He forms the inevitable, ever -smiling presence in all holiday snapshots.

Much friendlier is the "cicchetto" just a small glass of fresh Sangiovese wine dispensed to all faithful holidaymakers thus refreshing the throat and enlivens the thoughts in the sombre shadow of his welcoming kitchen cabin.

At daytime fun, entertainment and sport combine, everyone can find his /her tailor made activity, children included in a Riviera ever in trim.
At the close of a long sun-filled day, a moonlit strand rejuvenates. With the umbrellas all put away, one can still dine, listen to decent music or else head off to a theme party on many of the bathing establishments along the coast. Sip rum in the hottest Cuban bar of the strand and, around midnight, just start dancing in the trendiest clubs of the coast all night long rambling from a club to a disco.
The night is awakening, the "witches" bewilder around in the warm spell of the garbino wind which is said to make all women bright, sparkling deceiving witches, always -up and men undisputedly, undoubtedly, always or almost always down.
"Can I read your hand, Sir?" her soft voice, the tinkling of the earrings, she was back once more... and he was trapped again.
Wherever Gipsies go there you find Witches, you know.
<< Previous Page
---
---
| | |
| --- | --- |
| | |
| | |
Follow Us
Featured Item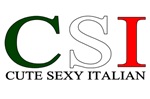 Shirts & Novelties
---
Partner Links Shops/Stores Italiansrus Gear
Proudly display the colors of Italy with these great products.

FORZIERI.com

The world largest online retailer for Premium Italian Fashions.
---
Travel Tour Italy
Customize your trip to Italy.