---
Resources
Art, Cuisine, Famous Italians, Festivals, Folklore, Genealogy, Holidays, Hotels, Photos, Real Estate, Sports, Travel and More
---
Guides
---
Surname Collection
Add your name to the collection.
---
Recipes
Authentic Italian recipes for you to enjoy.
---
Photo Galleries
Enjoy photos of Italy, wine making & more.
---
Proverbi
Proverbs in Italian & English.
---
Our Paesani
Weekly column dedicated to today's Italy.
by Francesca Di Meglio
---
Italian Memories
Articles on growing up Italian.
by Cookie Curci
---
Una Mamma Italiana
Articles for Italian mammas.
by Tiffany Longo
---
Learn Italian
English-Italian guides
Spanish-Italian guides.
---
Molto Italiano
Sign up for our FREE newsletter.
---
Trivia
Test your knowledge of Italy.
---
The Wait 'N See Tree
How nonna's little tree taught our family a big lesson in faith and patience. "Faith is believing in something when common sense tells us not to."
Page 4
Continued from page 3
Italian Memories

by Cookie Curci

It was late July when the small buds matured into rosy-red nectarines. Grandma's tree had burgeoned forth with plump, ripe, juicy, fruit. The tree's spindly branches arched and bowed under the weight of the roly-poly, mouthwatering nectarines- so big and round, we'd never seen their equal.

That summer, along with the sweet nectarines, grandma's family ate a lot of crow. But grandma was too busy picking nectarines for canning season, to say "I told you so", her high-beam smile said it all.

Every year, thereafter, like a springtime Christmas tree, each branch glistened with red and gold ornaments of fruit. Its enduring green leaves and golden red harvest an indelible reminder of the depth of grandma's faith, love and patience.

In the coming years, grandma's tree continued to grow. And, as our family grew and changed along with it, we learned to give to one another just as the tree had so generously given to us.

Grandma, like other gardeners, was inspired by the sense of creation and the feeling of accomplishment that gardening brings. It took me a long time to understand grandma's eager passion for growing things. Not until I was on my own, many years later, did I find any satisfaction in planting seeds or in watching them grow. I've inherited grandma's desire to grow things and today a tree, grown from the fruit of her original tree, grows outside my back door, a reminder of her faith.

People are more familiar now with the idea that plants, like humans, respond to the warmth of a human voice, have feelings, and can sense moods and music. I can't swear that grandma's singing to her tree encouraged its production of such extraordinary fruit. But I suspect, from watching grandma and her tree, that things happen when you truly believe in them and the belief in something can make it happen.

Luther Burbank once wrote, "Love is the secret to improved gardening" That's quite a statement for a man of science, but, like grandma, devoted gardeners everywhere believe it to be true.
| | |
| --- | --- |
| | |
| | |
Follow Us
Featured Item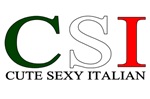 Shirts & Novelties
---
Partner Links Shops/Stores Italiansrus Gear
Proudly display the colors of Italy with these great products.

FORZIERI.com

The world largest online retailer for Premium Italian Fashions.
---
Travel Tour Italy
Customize your trip to Italy.