---
Resources
Art, Cuisine, Famous Italians, Festivals, Folklore, Genealogy, Holidays, Hotels, Photos, Real Estate, Sports, Travel and More
---
Guides
---
Surname Collection
Add your name to the collection.
---
Recipes
Authentic Italian recipes for you to enjoy.
---
Photo Galleries
Enjoy photos of Italy, wine making & more.
---
Proverbi
Proverbs in Italian & English.
---
Our Paesani
Weekly column dedicated to today's Italy.
by Francesca Di Meglio
---
Italian Memories
Articles on growing up Italian.
by Cookie Curci
---
Una Mamma Italiana
Articles for Italian mammas.
by Tiffany Longo
---
Learn Italian
English-Italian guides
Spanish-Italian guides.
---
Molto Italiano
Sign up for our FREE newsletter.
---
Trivia
Test your knowledge of Italy.
---
The Wait 'N See Tree
How nonna's little tree taught our family a big lesson in faith and patience. "Faith is believing in something when common sense tells us not to."
Page 3
Continued from page 2
Italian Memories

by Cookie Curci

Meanwhile, Grandma's "Wait-'n-see tree", as it had come to be known, had grown, taller and stronger with each season, but still bore no fruit.

The following summer, backyard barbecues were all the fad. Dad and grandpa began work on a patio deck. Once again, Grandma's tree was smack in the middle of our plans.

Once again, we approached grandma and once again she raced to her tree's side, and with the theatrics of a grand Puccini opera she heroically defended it from Grandpa's ax, placing herself in front of the tree, like a mother protecting her child. Then, with great passion and commitment, she declared: "Things that endure, take time to create".

Grandma's actions, as well as her deep belief in her words, had again won a reprieve for her little tree.

That spring, Grandma's wait- and- see- tree managed to produce a few pale little leaves and tiny blossoms, but nothing that would indicate a robust nectarine crop.

As grandma gardened, I'd hear her singing Italian arias to her wisp of a fruit tree. When I laughed at her for singing to a tree, she'd say, in her native language, "Faith, is believing in something when common sense tells you not to... Have some faith and this summer, you'll be picking baskets of your favorite fruit."

With the coming of warm spring days, tiny green bumps of fruit began to emerge on the branches of grandma's wait- and- see- tree. But still, the tree drew no interest from me. Like the rest of my family, I was sure the tree would bare bitter fruit.

Continued on page 4
| | |
| --- | --- |
| | |
| | |
Follow Us
Featured Item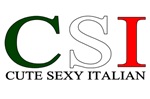 Shirts & Novelties
---
Partner Links Shops/Stores Italiansrus Gear
Proudly display the colors of Italy with these great products.

FORZIERI.com

The world largest online retailer for Premium Italian Fashions.
---
Travel Tour Italy
Customize your trip to Italy.