---
Resources
Art, Cuisine, Famous Italians, Festivals, Folklore, Genealogy, Holidays, Hotels, Photos, Real Estate, Sports, Travel and More
---
Guides
---
Surname Collection
Add your name to the collection.
---
Recipes
Authentic Italian recipes for you to enjoy.
---
Photo Galleries
Enjoy photos of Italy, wine making & more.
---
Proverbi
Proverbs in Italian & English.
---
Our Paesani
Weekly column dedicated to today's Italy.
by Francesca Di Meglio
---
Italian Memories
Articles on growing up Italian.
by Cookie Curci
---
Una Mamma Italiana
Articles for Italian mammas.
by Tiffany Longo
---
Learn Italian
English-Italian guides
Spanish-Italian guides.
---
Molto Italiano
Sign up for our FREE newsletter.
---
Trivia
Test your knowledge of Italy.
---
The Wait 'N See Tree
How nonna's little tree taught our family a big lesson in faith and patience. "Faith is believing in something when common sense tells us not to."
Page 2
Continued from page 1
Italian Memories

by Cookie Curci

One spring, our family's desire for a backyard swimming pool circumvented grandma's gardening joys. The above- ground pool was 4 feet deep and 50 feet round, its dimensions took up the whole backyard.

Graciously, grandma agreed to give up her backyard vegetable garden so we could install the play pool. But when it came time to cut down one of her young seedling trees, which was right in the path of our new swimming pool, Grandma staunchly protested. She insisted the volunteer tree was going to bare sweet nectarines, if only we'd have a little faith, and patience.

Grandpa, an expert tree grower, swore on his knowledge as an orchardist, that the seedling was nothing more than a wild, bitter peach tree. What more proof did grandma need?

But Grandma's belief in her tree was unshaken. She gave a catalog of reasons why the tree should be spared.

Begrudgingly, the family gave in to grandma's poignant pleas and settled on a smaller swimming pool. When we complained that our pool wasn't as big as our neighbor's swimming pool, Grandma would say, in her best broken English, "Wait and see, children, wait and see, this little tree will give you more pleasure through the years than a thousand swimming pools."

"Wait- 'n- see ... Wait- 'n- see", you and your 'ol Wait 'n see tree", I sarcastically mocked grandma's words.

By the end of summer, our enthusiasm for the swimming pool had waned. The pool had become a nuisance. One of us had to clean it everyday with an underwater vacuum system. And no one liked testing the water's chemical balance or the daily pouring of chlorine into the water. Plus, it attracted all kinds of flying bugs and insects.

The plastic pool was packed away.

Continued on page 3
| | |
| --- | --- |
| | |
| | |
Follow Us
Featured Item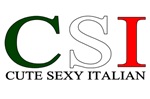 Shirts & Novelties
---
Partner Links Shops/Stores Italiansrus Gear
Proudly display the colors of Italy with these great products.

FORZIERI.com

The world largest online retailer for Premium Italian Fashions.
---
Travel Tour Italy
Customize your trip to Italy.