---
Resources
Art, Cuisine, Famous Italians, Festivals, Folklore, Genealogy, Holidays, Hotels, Photos, Real Estate, Sports, Travel and More
---
Guides
---
Surname Collection
Add your name to the collection.
---
Recipes
Authentic Italian recipes for you to enjoy.
---
Photo Galleries
Enjoy photos of Italy, wine making & more.
---
Proverbi
Proverbs in Italian & English.
---
Our Paesani
Weekly column dedicated to today's Italy.
by Francesca Di Meglio
---
Italian Memories
Articles on growing up Italian.
by Cookie Curci
---
Una Mamma Italiana
Articles for Italian mammas.
by Tiffany Longo
---
Learn Italian
English-Italian guides
Spanish-Italian guides.
---
Molto Italiano
Sign up for our FREE newsletter.
---
Trivia
Test your knowledge of Italy.
---
A Telling Tale About Truffles
Author Tom Benjamin on the inspiration behind his critically-acclaimed Bologna-set novel The Hunting Season.

Like a Romagnan truffle dog, I caught the scent of the second in my series of Bologna-set mystery novels from the faintest source. We were lunching in the hills abutting the city, when over a traditional appetizer of fried egg topped with white truffle (it was October, and the beginning of the season), our friend Paolo told us a story.

Paolo was old enough to remember when truffles were viewed much like any other fungi locally, and his grandfather's fondness for heading out in search of them was regarded as a harmless eccentricity.

These were in the decades after the war, which seemed eons ago when I was growing up in the 1970s but I now realise to the people who fought in it, must have seemed like yesterday. The countryside around Bologna had been hit particularly hard – civilians, entire villages, had been massacred by the Germans in retribution for partisan activity. And as Paolo's grandfather Enrico had been a leading partisan, I expect he now appreciated the quiet life alone in the woods with his dogs. Paolo recalled that he would return with so many truffles that his grandmother Agnese didn't know what to do with them. She used to complain about "the stink" and ended up throwing the excess out of the kitchen window until there was quite a pile outside.

As part of his hobby, Enrico liked to breed and train Lagotto Romagnolo, one of the very oldest breeds of dog (and said to be an ancestor of the Poodle) which, with its springy, "woollen" hair, was once used to gather fowl on the Po marshes – but now, thanks to its exceptional sense of smell and keen intelligence, was also favoured for its ability to detect truffles.

But one day the young Lagotto that Enrico had been painstakingly training over the year to sniff out truffles went missing. He never found it. Instead, Enrico, a stoical "man of the mountains," got hold of another pup, which he began to train, only for this one to go missing six months or so later. He gave it one further go, but the next dog only lasted a few months before it was snatched. At which point he gave up – the Nazis might not have defeated Enrico, but the Lagotto poachers had. Truffle mania had taken over, and Agnese's garbage pile had long since been spirited away.

The truffle trade now dominates Paolo's hometown and has made what was once a humble community of hill farmers exceedingly rich. But just as Enrico discovered – where there's money, crime often follows.

Today, truffle hunting is a serious business. In a few months a truffle hunter can earn enough to support them for a year, and if they're really lucky, they can hit the jackpot – uncover a white truffle that might be auctioned for hundreds of thousands of dollars. Many hunters only venture out, illegally, at night to avoid being tracked. Dogs are raised and kept under high security, but this doesn't stop some being poisoned.

This high-stakes, high-finance dimension to truffles has also brought another card into play, "counterfeits:" truffles smuggled in from abroad, thereby lacking the provenance and, connoisseurs would argue, refinement of the real thing.

Since the earliest days when the truffle business became just that, a business, there have been "counterfeits," but back then the trade consisted of little more than a chap turning up at the back door of a restaurant with a pocket full of Albanian truffles and a cheeky smile. Now, what was once a cottage industry has turned into a major criminal enterprise, and legitimate truffle traders and restaurateurs have to be on their guard.

In The Hunting Season, my Bologna-based sleuth Daniel Leicester is tasked with finding a missing American truffle "supertaster" hired to check the provenance of the local truffles. With the aid of a glamorous TV reporter, the trail takes him through the city's trattorie and on to its surrounding countryside – commonly known as the calanchi, or "badlands."

It was a joy to write The Hunting Season not only because it gave me an excuse to sample plenty of truffle dishes in Paolo's hometown – which, for the purpose of ever being welcomed into a restaurant there again, I have rechristened "Boscuri" – but because I was able to learn about a phenomena that has yet to emerge from the shadows. Everyone, it seems, has a vested interest in keeping the counterfeit trade quiet.

And just as my debut, A Quiet Death In Italy, explored the tensions around the gentrification of Bologna with Daniel's investigation into the death of an ageing political activist, The Hunting Season invites the reader to a modern Bologna marketing its "authenticity" to tourists, but treading a fine line between this idealised sense of itself, and Italy's ever-present shadow.

The Hunting Season and A Quiet Death In Italy are available now in the UK, and will be releasing this November and December for the first time in the US. They can be pre-ordered now through Amazon and Bookshop.org.

Follow author Tom Benjamin at @tombenjaminsays on Twitter, Instagram, and Facebook and visit his website at www.tombenjamin.com.
| | |
| --- | --- |
| | |
| | |
Follow Us
Featured Item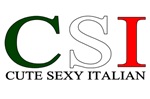 Shirts & Novelties
---
Partner Links Shops/Stores Italiansrus Gear
Proudly display the colors of Italy with these great products.

FORZIERI.com

The world largest online retailer for Premium Italian Fashions.
---
Travel