---
Resources
Art, Cuisine, Famous Italians, Festivals, Folklore, Genealogy, Holidays, Hotels, Photos, Real Estate, Sports, Travel and More
---
Guides
---
Surname Collection
Add your name to the collection.
---
Recipes
Authentic Italian recipes for you to enjoy.
---
Photo Galleries
Enjoy photos of Italy, wine making & more.
---
Proverbi
Proverbs in Italian & English.
---
Our Paesani
Weekly column dedicated to today's Italy.
by Francesca Di Meglio
---
Italian Memories
Articles on growing up Italian.
by Cookie Curci
---
Una Mamma Italiana
Articles for Italian mammas.
by Tiffany Longo
---
Learn Italian
English-Italian guides
Spanish-Italian guides.
---
Molto Italiano
Sign up for our FREE newsletter.
---
Trivia
Test your knowledge of Italy.
---
Ninety Years - End of the Rainbow - Return to Campobasso
Continued from page 2
By Robert Bruno
Shortly after our return to America, my mother arrived for the Christmas holidays. I was very anxious to show her the page I copied from the Campobasso telephone book. When my mother saw the list she became very excited. She started saying "Oh, I remember grandpa writing to Salvatore, Nunzio, and Rafaele." She went on and on. She was so excited. I knew these were not the people my grandfather wrote to but they had to be the sons, nephews and / or cousins of the family members my grandfather left behind and frequently wrote to.
Being curious, I decided that I would write a letter to Campobasso. There were about seven or eight Casertanos listed in the phone book, so I had to choose one name that I could send the letter to. I chose Rafaele Casertano. The reason I chose Rafaele was because my grandfather's brother Giovanni had a son named Rafaelle. I knew Rafaelle all my life in America because he was very close to my mother. Although he is my second cousin, out of respect I always called him Uncle Ralph. Uncle Ralph is now 83 years old and still lives in the same house that Giovanni bought many, many years ago in Staten Island, New York. It was the first house the Casertano family bought in America.
Our friends Olga and Steve Delpietra from Trieste, Italy translated the letter I wrote to Rafaele into Italian. I sent the first letter to Rafaele in February 2001.The letter basically was an introduction of myself, who my mother was, and that my grandfather Pasquale came to America in 1913 with his two older brothers Giuseppe and Giovanni. In the letter I told him that I wanted to know if we were in some way related; and, if we weren't related, did he know anyone in Campobasso that I was related to. I included my e-mail address, mailed it, and hoped I would get a response.
I mailed the letter on a Friday. The post office told me that it would take seven to ten days to reach Campobasso. Five days later while I was at work, I received a phone call from my wife Mariann. Mariann informed me that I had received an e-mail. I asked, "from whom?" She said from Rafaele, in Campobasso. I asked, "what does it say?" She said, "I don't know. It's in Italian." I told her to print the e-mail and as soon as I got home we would go to Olga and Steve's house so that they could translate it for us.
Continued on page 4
| | |
| --- | --- |
| | |
| | |
Follow Us
Featured Item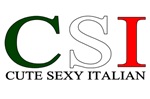 Shirts & Novelties
---
Partner Links Shops/Stores Italiansrus Gear
Proudly display the colors of Italy with these great products.

FORZIERI.com

The world largest online retailer for Premium Italian Fashions.
---
Travel Tour Italy
Customize your trip to Italy.