---
Resources
Art, Cuisine, Famous Italians, Festivals, Folklore, Genealogy, Holidays, Hotels, Photos, Real Estate, Sports, Travel and More
---
Guides
---
Surname Collection
Add your name to the collection.
---
Recipes
Authentic Italian recipes for you to enjoy.
---
Photo Galleries
Enjoy photos of Italy, wine making & more.
---
Proverbi
Proverbs in Italian & English.
---
Our Paesani
Weekly column dedicated to today's Italy.
by Francesca Di Meglio
---
Italian Memories
Articles on growing up Italian.
by Cookie Curci
---
Una Mamma Italiana
Articles for Italian mammas.
by Tiffany Longo
---
Learn Italian
English-Italian guides
Spanish-Italian guides.
---
Molto Italiano
Sign up for our FREE newsletter.
---
Trivia
Test your knowledge of Italy.
---
Ninety Years - End of the Rainbow - Return to Campobasso
Continued from page 1
By Robert Bruno
Mariann and I were in Italy for a couple of weeks when we arrived in Positano on the Amalfi Coast. Following our stay there, our next destination would be Campobasso. Campobasso was a two and a half hour drive northeast of Naples and the capital of the province of Molise, west of the Adriatic Coast. As we were getting closer to Campobasso, it became very dark and started to rain. It rained for a short time and then the sun came out and shortly thereafter it became dark again, rained, the sun came out again, repeating its prior sequence. This sequence repeated itself several times as we were approaching the city limits. As we proceeded on our drive towards Campobasso, I saw a sign that read "Campobasso 2.5 kilometers." Shortly after reading that sign, a rainbow appeared in front of us. We actually drove through a rainbow into Campobasso! It was quite a fascinating feeling that I cannot explain. It was as though we were being welcomed by all of my Campobasso ancestors. It brought goose bumps to both of us!
We arrived in Campobasso late in the afternoon. We found a hotel called "Le Cupolette" outside of the city. It was very exciting for me because I knew this is where my grandfather and his two brothers came from. I was the only Casertano who ever had the opportunity to return. It was like traveling back in time. We went into the city and walked around. I wanted to tell everyone who I was and that my grandfather was from here. I wanted to tell everyone I was a Casertano, an "Italo-Americano." I wanted to tell everyone that a Casertano from America had finally returned! That evening, I called my mother. She was really happy and excited because she knew I was the first Casertano to return since the three brothers left in the early 1900's.
After a wonderful Campobasso style dinner, we returned to the hotel. Mariann went to the room and I decided to sit around in the hotel lobby. I thought maybe I would run into somebody that knew the Casertano family. I realized that wasn't going to happen because no one spoke English. I was excited about where I was. While sitting in the lobby "people watching," I asked the hotel receptionist for a phone book. I said to myself, "let me see if there are any Casertanos in the local phone book." I don't know what I was thinking, but of course there would be. As I thumbed through the phone book and came to the Casertano name, I saw two Salvatore, Michele, Rafaele, Fabrizio, Francesco and Bianca. I wasn't really surprised to see all the Casertanos in the phone book. I also wasn't surprised that they all lived on the same road, in Mascione, 10 minutes from the center of Campobasso. Living near family was also very typical for Italians living in America.
I knew my mother was coming to visit us for Christmas, so I asked the receptionist at the front desk to make a copy of the page in the phone book that listed all the Casertanos. I wanted to show my mom all the Casertanos still living in Campobasso. The next day we left Campobasso and continued our trip north towards Siena. I can't explain the reason but as we left Campobasso I felt in my heart that I would return to this place again.
Continued on page 3
| | |
| --- | --- |
| | |
| | |
Follow Us
Featured Item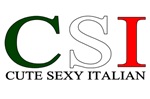 Shirts & Novelties
---
Partner Links Shops/Stores Italiansrus Gear
Proudly display the colors of Italy with these great products.

FORZIERI.com

The world largest online retailer for Premium Italian Fashions.
---
Travel Tour Italy
Customize your trip to Italy.