---
Resources
Art, Cuisine, Famous Italians, Festivals, Folklore, Genealogy, Holidays, Hotels, Photos, Real Estate, Sports, Travel and More
---
Guides
---
Surname Collection
Add your name to the collection.
---
Recipes
Authentic Italian recipes for you to enjoy.
---
Photo Galleries
Enjoy photos of Italy, wine making & more.
---
Proverbi
Proverbs in Italian & English.
---
Our Paesani
Weekly column dedicated to today's Italy.
by Francesca Di Meglio
---
Italian Memories
Articles on growing up Italian.
by Cookie Curci
---
Una Mamma Italiana
Articles for Italian mammas.
by Tiffany Longo
---
Learn Italian
English-Italian guides
Spanish-Italian guides.
---
Molto Italiano
Sign up for our FREE newsletter.
---
Trivia
Test your knowledge of Italy.
---
A Christmas gift for Palazzo Vecchio from the first woman painter of Florence
Annunciazione - Plautilla Nelli
Photo: Serge Dominge

The gifts of Christmas are infinite. A 'new' Annunciation attributed to Renaissance painter Plautilla Nelli has been restored by the Advancing Women Artists foundation and displayed at the museum for the first time ever.

The Annunciation was much-loved painterly theme for sixteenth-century artists, and Nelli, as an exponent of the School of San Marco who was aware of Beato Angelico's rendition, was no exception. "Because this painting depicts the Virgin Mary receiving news of Christ's birth from the Archangel Gabriel, we thought its restoration a perfect way to share the Christmas spirit, as a gift to Florence and art lovers everywhere," says AWA's founder and President Jane Fortune.

Heir of Fra Bartolomeo's sizable drawings collection and a true Renaissance woman, Nelli lived in in a Florentine convent, like fifty percent of the city's literate women from noble or merchant classes. (Sizeable marriage dowries were only provided for eldest daughters). An art collector, art teacher and entrepreneur, Nelli broke the mold and, as Vasari writes in his famed Lives: "She made so many paintings for the homes of Florentine gentlemen that it would be tedious to list them all here." Works by Nelli and her all-female workshop were especially popular in her time, as Florentine nobles believed that art by pious women were imbued with an aura of spirituality that made them a perfect match for private family chapels. The Palazzo Vecchio painting, now on display in the palace's Mezzanine, is considered an example of this phenomenon. Attributed to Nelli by US scholar Catherine Turrill, it is thought to be one of two Annunciations by the artist that Giorgio Vasari cites.

"We are happy – says Mayor Dario Nardella – that this painting is being displayed at its 'home' in Palazzo Vecchio. Unfortunately, art by women is not well-known, but it is a very important part of our country's culture. We are thankful to AWA for the passion and insight with which it helps us rediscover this heritage."

The project's main players? The City of Florence, the Florence Civic Museums and the Superintendent's Office for Fine Arts and Landscape of Florence and the Provinces of Pistoia and Prato and AWA. Project curators: Serena Pini and Jennifer Celani. Restorer: Rossella Lari.

This Christmas tradition started in 2009 with the exhibition at Palazzo Pitti entitled 'A Christmas Gift to the City of Florence' featured Artemisia Gentileschi's newly restored David and Bathsheba, created the royal apartments of Grand Duke Cosimo II. It spurred the official foundation of Advancing Women Artists (AWA), a US-organization based in Florence and Indianapolis, founded by author and philanthropist Jane Fortune. AWA has since restored over 40 works by women painters and sculptures in Florence's museums and churches, Nelli first and foremost. This effort to research, restore and exhibit the paintings of Florence's earliest significant female artist was key to the development of her first-ever solo exhibition at the Uffizi last spring, which catapulted the convent artist to worldwide recognition. The next museum to benefit from a 'Nelli restoration'? The revamped Museum of Santa Maria Novella in 2019, with her monumental Last Supper.

Information and images provided by the Advancing Women Artists Foundation, Italy
| | |
| --- | --- |
| | |
| | |
Follow Us
Featured Item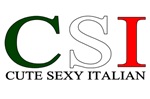 Shirts & Novelties
---
Partner Links Shops/Stores Italiansrus Gear
Proudly display the colors of Italy with these great products.

FORZIERI.com

The world largest online retailer for Premium Italian Fashions.
---
Travel Tour Italy
Customize your trip to Italy.