---
Resources
Art, Cuisine, Famous Italians, Festivals, Folklore, Genealogy, Holidays, Hotels, Photos, Real Estate, Sports, Travel and More
---
Guides
---
Surname Collection
Add your name to the collection.
---
Recipes
Authentic Italian recipes for you to enjoy.
---
Photo Galleries
Enjoy photos of Italy, wine making & more.
---
Proverbi
Proverbs in Italian & English.
---
Our Paesani
Weekly column dedicated to today's Italy.
by Francesca Di Meglio
---
Italian Memories
Articles on growing up Italian.
by Cookie Curci
---
Una Mamma Italiana
Articles for Italian mammas.
by Tiffany Longo
---
Learn Italian
English-Italian guides
Spanish-Italian guides.
---
Molto Italiano
Sign up for our FREE newsletter.
---
Trivia
Test your knowledge of Italy.
---
Papa's Radio: The Gift of True Friendship
Page 4
Continued from page 3
Italian Memories
by Cookie Curci
Mr. Goldstein was the first to speak up, "Vincenzo, my friend. The United States government says that you can no longer own a radio, is this correct?"
Wearing a quizzical expression on his face, Papa answered, "Yes... Yes, this is so."
"But the government did not forbid you should listen to the radio, correct?" inquired Mr. Rosenberg.
"Correct," Papa repeated.
Papa's neighbors handed him a sheet of paper. On the paper was a handwritten time schedule listing all of his favorite radio programs. Each program and time corresponded with a neighbor's address. His old pals had gotten together and worked out a radio listening schedule for Papa and Grandma that included every show from "The Goldbergs" to "Little Orphan Annie".
Read it, my friend, encouraged Mr. Rosenberg, its all there. Monday: You and the Mrs. will listen to "Fibber McGee and Molly" at the Miller's home. Tuesday: "The Goldbergs" and "The Ted Mack Hour" at my house. Wednesday: "Edgar Bergen and Charlie McCarthy" at the Smiths house and so on, until all of your favorite programs are accounted for. You and the Mrs. won't miss one of your favorite shows if we can help it, Vincenzo.
Papa's eye welled with tears, but this time they were tears of joy and gratitude. Papa invited his dear fiends into his house to celebrate the occasion. While Papa poured a glass of his homemade red wine for each of his friends, grandma passed around her freshly baked biscotti's.
Before going to bed that night, Papa and Grandma said a special silent prayer of thanks. Papa had lost his valuable radio on that somber day in 1941, but what he'd found in friendship on that very special Christmas Eve was truly priceless.
The great Chinese philosopher Lao Tzu wrote that "Kindness in words creates confidence, kindness in thinking creates profoundness, but kindness in sharing creates love."
---
| | |
| --- | --- |
| This article by Cookie Curci is featured in the book titled Opening the Gifts of Christmas : Practicing the Angelic Gifts of Faith, Hope, Charity, and Love by Jennifer Basye Sander and Jamie Miller. You can purchase a copy by clicking on the book to your right. | |
| | |
| --- | --- |
| | |
| | |
Follow Us
Featured Item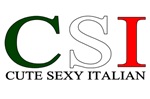 Shirts & Novelties
---
Partner Links Shops/Stores Italiansrus Gear
Proudly display the colors of Italy with these great products.

FORZIERI.com

The world largest online retailer for Premium Italian Fashions.
---
Travel Tour Italy
Customize your trip to Italy.