---
Resources
Art, Cuisine, Famous Italians, Festivals, Folklore, Genealogy, Holidays, Hotels, Photos, Real Estate, Sports, Travel and More
---
Guides
---
Surname Collection
Add your name to the collection.
---
Recipes
Authentic Italian recipes for you to enjoy.
---
Photo Galleries
Enjoy photos of Italy, wine making & more.
---
Proverbi
Proverbs in Italian & English.
---
Our Paesani
Weekly column dedicated to today's Italy.
by Francesca Di Meglio
---
Italian Memories
Articles on growing up Italian.
by Cookie Curci
---
Una Mamma Italiana
Articles for Italian mammas.
by Tiffany Longo
---
Learn Italian
English-Italian guides
Spanish-Italian guides.
---
Molto Italiano
Sign up for our FREE newsletter.
---
Trivia
Test your knowledge of Italy.
---
Papa's Radio: The Gift of True Friendship
Page 2
Continued from page 1
Italian Memories
by Cookie Curci
There were no complexities to Papa Vincenzo's life style; his needs were easily satisfied by a good meal, a warm home and a loving family. He lived his life by the simple and old-fashioned creed: "Pray for the things you want, work for the things you need."
If Papa had one luxury, it was the acquisition of a household radio. The radio had become a vital component of his daily life. It restored his energy ant brought back his sense of humor after a long workday in the fruit orchards of the Santa Clara Valley. With the impending arrival of World War II, the economy had begun to tighten, but the budget-wise Grandpa had managed to scrimp and save enough money, from his meager earnings as a tree pruner, to purchase the new radio. Although Papa had known poverty in the Old Country, he felt he'd never been poor, only broke. Being poor, Papa believed was a state of mind; being broke, was only a temporary situation.
Papa loved his new radio, but Great-Grandma preferred listening to her old Victrola or puttering around her wood stove to sitting by the radio. Until the day she heard her first episode of "One Man's Family" on NBC radio. From that moment on, she was an ardent fan of the new media.
In time, Grandma came to believe the radio had been sent to them as a blessing. It had helped both her and Papa Vincenzo to learn better English, and it had been a boost to their social life as well. The radio gave them a common topic to discuss with their neighbors, who also listened nightly to the same radio programs.
On warm summer nights, Papa's neighborhood cronies, Mr. Goldstein, Mr. Miller and Mr. Rosenberg, sat with Papa on his front stoop discussing their favorite radio programs. There were times when Mr. Goldstein would explain the meaning of a certain Yiddish word Papa had heard on the "Molly Goldberg Show". Other times, Papa would translate a Puccini opera for Mr. Goldstein. Some nights, the old friends had a good laugh at the expense of the contestants on "Ted Mack's Original Amateur Hour". The radio had helped to bond these old friends, who came from vastly different backgrounds, in a way few things could. The men had left their Old Country to escape tyranny and suppression and as young immigrants they settled into the neighborhood together. Although they came from varied parts of the world and followed different religious beliefs, the old friends shared a love for their new country and family traditions.
And so their friendship grew until that fateful December day in 1941, when Papa's radio brought him the terrible news that Pearl Harbor had been attacked. He would hear President Roosevelt declare war with Japan, and the Axis powers Germany and Italy- a declaration of war that would change Papa's life.
---
| | |
| --- | --- |
| This article by Cookie Curci is featured in the book titled Opening the Gifts of Christmas : Practicing the Angelic Gifts of Faith, Hope, Charity, and Love by Jennifer Basye Sander and Jamie Miller. You can purchase a copy by clicking on the book to your right. | |
| | |
| --- | --- |
| | |
| | |
Follow Us
Featured Item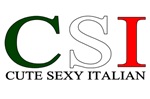 Shirts & Novelties
---
Partner Links Shops/Stores Italiansrus Gear
Proudly display the colors of Italy with these great products.

FORZIERI.com

The world largest online retailer for Premium Italian Fashions.
---
Travel Tour Italy
Customize your trip to Italy.