---
Resources
Art, Cuisine, Famous Italians, Festivals, Folklore, Genealogy, Holidays, Hotels, Photos, Real Estate, Sports, Travel and More
---
Guides
---
Surname Collection
Add your name to the collection.
---
Recipes
Authentic Italian recipes for you to enjoy.
---
Photo Galleries
Enjoy photos of Italy, wine making & more.
---
Proverbi
Proverbs in Italian & English.
---
Our Paesani
Weekly column dedicated to today's Italy.
by Francesca Di Meglio
---
Italian Memories
Articles on growing up Italian.
by Cookie Curci
---
Una Mamma Italiana
Articles for Italian mammas.
by Tiffany Longo
---
Learn Italian
English-Italian guides
Spanish-Italian guides.
---
Molto Italiano
Sign up for our FREE newsletter.
---
Trivia
Test your knowledge of Italy.
---
Learning the Italian Grammers
By Daniel Olivieri

I may have been nineteen years-old, but I was a baby to the Italian language. I was struggling with things that any ten-year-old in Milan knows. What sound did the letters "ci" make? What about "ch"? Was "detto" a different word than "dire"? And how was it that the word for "go" was such a shapeshifter? In the third person singular, it was simple enough–"va." In the first person plural, however, it looked totally different–"andiamo." And the prepositions! On their own, they were manageable enough: su, in, da, di, a, con, per, fra. But when paired with an article they would put on elaborate disguises. Su and la would merge to become sulla. Da and gli would become dagli. Those first few weeks of class, the entire Italian language seemed to be a conspiracy meant to confuse me.

I had good reasons to keep up my studies, however. The summer before I would start college, I had visited Italy. I liked the country of Italy, but it was the Italians I loved. Even when the Italians were angry, they were angry for the right reasons. A waiter nearly yelled at my family for not eating the stem of the artichoke we had ordered. Once I tried it, understood why. The succulent flavor of that artichoke stem is still a treasured memory to my taste buds. Another time, I was walking down the streets of Rome when a gaggle of ragazze stopped in front of me. One of the girls threw open her arms to give me a hug. I balked at first–I still had my prudish American sensibilities. When I did bring myself to hug the girl I shouted one of the few Italian words I knew– "Salute!" She laughed at that as we walked our separate ways.

As Italian class carried on, the language started to warm up to me. Being introduced to the future tense (il futuro) extended my linguistic reach into the future while the passato prossimo let me go into the past. Learning each new tense and voice felt like gaining a new tool I could one day deploy. Speaking in Italian stopped being an act of splicing together phrases I had memorized. Instead, it became an intricate puzzle to piece together. As I got better at Italian, I started to regret that no one else in my family spoke it. We Olivieri's have gained a lot because my great-grandfather immigrated here to the US, including fortune and prosperity. We are lucky for that. However, we also lost a lot. We lost the joy of pronouncing the letters "gli" as "yee" and the ability to use fun words like cavallo. As I read and study more Italian, I am gaining back these things my family lost two generations ago.

I am not sure if my children will speak Italian. What I am sure of, however, is that the next time an Italian person hugs me on the streets of Rome; I will have more to say than just "salute!"
| | |
| --- | --- |
| | |
| | |
Follow Us
Featured Item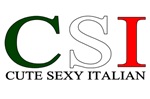 Shirts & Novelties
---
Partner Links Shops/Stores Italiansrus Gear
Proudly display the colors of Italy with these great products.

FORZIERI.com

The world largest online retailer for Premium Italian Fashions.
---
Travel