---
Resources
Art, Cuisine, Famous Italians, Festivals, Folklore, Genealogy, Holidays, Hotels, Photos, Real Estate, Sports, Travel and More
---
Guides
---
Surname Collection
Add your name to the collection.
---
Recipes
Authentic Italian recipes for you to enjoy.
---
Photo Galleries
Enjoy photos of Italy, wine making & more.
---
Proverbi
Proverbs in Italian & English.
---
Our Paesani
Weekly column dedicated to today's Italy.
by Francesca Di Meglio
---
Italian Memories
Articles on growing up Italian.
by Cookie Curci
---
Una Mamma Italiana
Articles for Italian mammas.
by Tiffany Longo
---
Learn Italian
English-Italian guides
Spanish-Italian guides.
---
Molto Italiano
Sign up for our FREE newsletter.
---
Trivia
Test your knowledge of Italy.
---
Hyphenated Italians, the Italian Diaspora
Part 5 of 5: Conclusion
Continued from part 4

The experiences of hyphenated Italians differ from country to country, but there are some similarities: a minority's solidarity in the face of the majority society, past discrimination and social exclusion, current prejudices and misconceptions within society, financial, emotional, and familial links to Italy, the embracing of the Italian cultural heritage, a desire to integrate into the larger society and create role-models for other hyphenated Italians.

But the experiences of hyphenated Italians differ most in relation to native Italians in Italy. Some see Italy as backward, yet others see her as advanced. Some see Italians as inefficient and corrupt, while others judge them to be more efficient and less corrupt than what they are used to. Some see Italian society focused on what matters in life (family and comfort), but others see Italian society as decadent and anti-life (abortion and birth-control).

Native Italians, and most often relatives of hyphenated Italians, share some experiences, too, when dealing with hyphenated Italians. Note, however, that this relationship is most often in relation to hyphenated Italians who are wealthy enough to travel to Italy. Native Italians are subjected to much criticism and critique. Their lives are often considered condescendingly "quaint". They can feel inferior in the face of greater wealth and well-being. They suffer impatience when put upon to validate the others' insecurities of ethnic identity. They can, however, feel a kinship with hyphenated Italians, and often take pride in their accomplishments in their birth countries.

The successes of hyphenated Italians are celebrated by native Italians. Indeed, these are the moments when native Italians feel real affection for, and take real pride in, their DNA-linked relations. Ironically, lately, some hyphenated Italians have begun to reject this recognition when they feel it does not fit their desired image in their birth countries. Not only is this ironic, it is clearly a lost opportunity for rare solidarity between the Italian Diaspora and native Italians.

Part 1: Introduction
Part 2: Comments and Ruminations
Part 3: Different Formative Experiences
Part 4: Some Words of Advice
| | |
| --- | --- |
| | |
| | |
Follow Us
Featured Item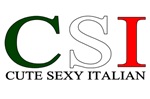 Shirts & Novelties
---
Partner Links Shops/Stores Italiansrus Gear
Proudly display the colors of Italy with these great products.

FORZIERI.com

The world largest online retailer for Premium Italian Fashions.
---
Travel