---
Resources
Art, Cuisine, Famous Italians, Festivals, Folklore, Genealogy, Holidays, Hotels, Photos, Real Estate, Sports, Travel and More
---
Guides
---
Surname Collection
Add your name to the collection.
---
Recipes
Authentic Italian recipes for you to enjoy.
---
Photo Galleries
Enjoy photos of Italy, wine making & more.
---
Proverbi
Proverbs in Italian & English.
---
Our Paesani
Weekly column dedicated to today's Italy.
by Francesca Di Meglio
---
Italian Memories
Articles on growing up Italian.
by Cookie Curci
---
Una Mamma Italiana
Articles for Italian mammas.
by Tiffany Longo
---
Learn Italian
English-Italian guides
Spanish-Italian guides.
---
Molto Italiano
Sign up for our FREE newsletter.
---
Trivia
Test your knowledge of Italy.
---
Hyphenated Italians, the Italian Diaspora
Part 4 of 5: Some Words of Advice
Continued from part 3

A few words of advice to hyper-critical, hyphenated Italians from socially liberal, economically strong countries...These are three common Italian "embarrassments" that they might want to look at from different perspectives:

For those who cringe at the idea of the maffia in Italy, abroad, and in popular entertainment... remember that criminal gangs exist in every country, and Italian law enforcement fights them continually and very effectively. Great strides were made in the in the 80's and 90's when extraordinary laws were enacted that allowed for immunity from prosecution and relocation for those who testified against the mob, and the confiscation of assets from convicted mobsters. The strides were so great that when the controversial laws (criminals were let off and "rewarded" with state subsidies, and the state took possession of assets on which innocent family members relied) expired, lawmakers decided not to renew them. The result has been as expected, a rise in criminal gang activity and membership, but it has been noted by lawmakers and new laws are in the works to help law enforcement tackle the problem. And when the Mafia ceases to exist, there will be less representations of it in popular entertainment. As for having exported Italian organized crime around the world, that is a charge not unique to Italians. A recent Russian immigrant to New York complained: "We thought we were escaping the Russian gangsters when we left Russia, but we were wrong: we brought our garbage with us." And just to point out, the word lost an "f" and gained a capital "M" in English - Mafia, suggesting it no longer refers to Italy's organized crime organizations but now refers to all organized crime organizations, regardless of ethnicity.

For those who are embarrassed by what they see as illiberal social mores...it's important to recognize that Italy (together with France) is the most socially liberal of all predominantly Catholic countries on the planet. Catholic religious traditions limit how fast and how far people are willing and able to loosen society's control over personal moral and social behavior. For some Catholics, including the Pope, Italy is decadent and has rejected her Catholic traditions so she can have self-indulgent, life-denying life-styles.

For those who are shamed by lower economic well-being than they are used to...know that Italy has few natural resources and yet counts among the top ten industrialized nations in the world. Those from more purely capitalistic societies should be aware that Italy's mixed economy and social-democratic values mean that while the middle class is less well off than some other middle classes, there is lower per capita poverty than in those same countries.

Part 1: Introduction
Part 2: Comments and Ruminations
Part 3: Different Formative Experiences
Part 5: Conclusion
| | |
| --- | --- |
| | |
| | |
Follow Us
Featured Item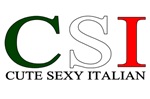 Shirts & Novelties
---
Partner Links Shops/Stores Italiansrus Gear
Proudly display the colors of Italy with these great products.

FORZIERI.com

The world largest online retailer for Premium Italian Fashions.
---
Travel Tour Italy
Customize your trip to Italy.