---
Resources
Art, Cuisine, Famous Italians, Festivals, Folklore, Genealogy, Holidays, Hotels, Photos, Real Estate, Sports, Travel and More
---
Guides
---
Surname Collection
Add your name to the collection.
---
Recipes
Authentic Italian recipes for you to enjoy.
---
Photo Galleries
Enjoy photos of Italy, wine making & more.
---
Proverbi
Proverbs in Italian & English.
---
Our Paesani
Weekly column dedicated to today's Italy.
by Francesca Di Meglio
---
Italian Memories
Articles on growing up Italian.
by Cookie Curci
---
Una Mamma Italiana
Articles for Italian mammas.
by Tiffany Longo
---
Learn Italian
English-Italian guides
Spanish-Italian guides.
---
Molto Italiano
Sign up for our FREE newsletter.
---
Trivia
Test your knowledge of Italy.
---
Hyphenated Italians, the Italian Diaspora
Part 3 of 5: Different Formative Experiences
Continued from part 2

The views of hyphenated Italians and native Italians will always differ because of their different formative experiences. Here are some of the more striking, and how they can affect relations between native Italians and hyphenated Italians.

Native Italians did not grow up in a mixed culture society, while most hyphenated Italians did. That exposure to various cultures and the respect and familiarity that immigrant countries try to foster between the cultures is not the norm in Italian society. In the 80's it was big news when the first Chinese restaurant opened in Italy, for example, and the only customers in the beginning were Chinese expatriates and tourists from immigrant countries who had tired of Italian food. The place was vandalized and suspected of everything from drug processing to white slavery. This is just a small example of some the hostility other cultures can suffer when they try to preserve their heritage in monoculture Italy.

Native Italians did not grow up as a minority, except within the confines of regional migration and the native Italian Jewish community. Minority status can produce many psychologically defining characteristics: feelings of inferiority, hyper-sensitivity to offense, a sense of not belonging, a search for identity, strong ties to an ethnic community, activism to promote one's ethnic group in the larger multi-cultural society. Native Italians never experienced minority status on this scale, so they don't share these characteristics and needs on the same scale as most hyphenated Italians.

Native Italians grow up in a social democracy with a mixed economy that has strong roots in communist-socialist theory. Many Italians proudly proclaim their left-leaning politics, even if many are laughingly called "armchair-socialists". The ideas of economic egalitarianism and the equality of opportunity are ingrained in Italians. The flaunting of extreme wealth, and the ridicule and blaming of the poor for their poverty is almost always condemned. This can be in stark contrast to the experiences of many hyphenated Italians who come from more purely capitalistic societies, where conspicuous consumption is either encouraged or laughed off, and blaming poverty on character flaws in the poor is commonplace.

Native Italians grow up in a highly politicized society where everything from work unions to art sponsorship to government television stations are separated along the political divide. This is the case in some of the countries that received large numbers of Italian immigrants, such as those in Latin America, but it is not (yet?) the case in the purer immigrant countries like Canada, Australia/NZ, the USA and England. The idea that one's political affiliation could determine one's career advancement in the civil service is actually illegal in these countries, something most Italians would find incomprehensible.

Native Italians grow up understanding Italian regional social and economic differences, and the historical bigotries that accompany these differences, which exist in all countries. Hyphenated Italians have generally experienced a coming together of all descendants of immigrant Italians for reasons of solidarity in a faraway land. The social and economic divisions, and bigotries, within Italy often come as a nasty shock. For the native Italians, the ignorance hyphenated Italians have of these differences and the subtleties they affect in behavior, only accentuate, in their eyes, the foreignness of the hyphenated Italians.

Part 1: Introduction
Part 2: Comments and Ruminations
Part 4: Some Words of Advice
Part 5: Conclusion
| | |
| --- | --- |
| | |
| | |
Follow Us
Featured Item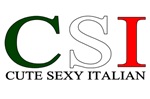 Shirts & Novelties
---
Partner Links Shops/Stores Italiansrus Gear
Proudly display the colors of Italy with these great products.

FORZIERI.com

The world largest online retailer for Premium Italian Fashions.
---
Travel Tour Italy
Customize your trip to Italy.