---
Resources
Art, Cuisine, Famous Italians, Festivals, Folklore, Genealogy, Holidays, Hotels, Photos, Real Estate, Sports, Travel and More
---
Guides
---
Surname Collection
Add your name to the collection.
---
Recipes
Authentic Italian recipes for you to enjoy.
---
Photo Galleries
Enjoy photos of Italy, wine making & more.
---
Proverbi
Proverbs in Italian & English.
---
Our Paesani
Weekly column dedicated to today's Italy.
by Francesca Di Meglio
---
Italian Memories
Articles on growing up Italian.
by Cookie Curci
---
Una Mamma Italiana
Articles for Italian mammas.
by Tiffany Longo
---
Learn Italian
English-Italian guides
Spanish-Italian guides.
---
Molto Italiano
Sign up for our FREE newsletter.
---
Trivia
Test your knowledge of Italy.
---
Hyphenated Italians, the Italian Diaspora
Part 2 of 5: Comments and Ruminations
Continued from part 1

And now for some comments from hyphenated Italians and native Italians, and some ruminations of my own...

P.S. from Sicily comments that hyphenated Italians can be intimidating for some Italians because of their physical beauty. As he explained it, the good diets, organized exercise, good medical care from a young age, anti-acne medicines, and wealth all contribute to this impression. He and his friends often felt like the ugly relations when their relatives from abroad came to visit.

C.G., an Italian-Australian, touches on beauty too but from a different perspective, and on several other topics. In her words: "Regarding my foreign experiences in Italy, I can't say I could pinpoint an actual incident. It's more of a realization I feel whilst I'm there. The instant I step off the plane I feel a foreigner. I'm easily identifiable as a foreigner, although my Italian is fluent, they can still tell and instantly I feel in a "me/them" situation. Of course there all those customs and the way things are done in Italy that truly frustrate me and this adds to my "foreignness". For example their totally chaotic ways, that once I am removed from them, I find so endearing."

"Furthermore, I feel so antagonized by the women, especially those in the services and retail industries. I find them insufferable yet so aesthetically perfect, that I find myself trying to dress like them within days of my arrival. I warm to the men, I have a lot of time for them. I find them pleasant, much easier to deal with. However I am not naive to their ways, let's face it they are masters of their craft."

"I guess what I'm trying to say is that I cannot identify with the Italians when I'm in Italy. My Italian friends (those living in Italy) accept me as one of their own, they see me as one of them. Yet I feel estranged, perhaps it is due to my long absences. Although I can express myself well, I still lack those every day spontaneous expressions that make all the difference. My communication lacks that spontaneity."

"The humour, unique, this I can identify with, theirs is more a satire...which doesn't lend itself easily to translation. It's brilliant, I also speak a dialect and there are certain satirical expressions that can only be said in dialect. To translate these, even into Italian, robs them of their essence."

C.G. brings up language, in which she is fluent and she also speaks a dialect. But language can be a divide between hyphenated Italians and native Italians. When the Italian-American actor-director, Vince Spano, was filming in Sicily, he was invited to participate in Pippo Baudo's popular variety show, "Fantastico". But when Mr. Spano answered Pippo's questions, Pippo, a native of Sicily, had to translate from the old Sicilian dialect that Mr. Spano spoke rather fluently, to modern Italian.

Pippo had no problem understanding him, as he explained, because it was the dialect he had spoken with his own parents and grandparents, but for modern Italians brought up on modern Italian dominated television, and with dialects being banned in schools, Mr. Spano was nearly incomprehensible. At the time his grandparents immigrated to America, modern Italian was not the lingua franca it is today in Italy.

About language, P.S. said when he and his friends tired of trying to understand the old dialects their visiting hyphenated relations spoke, they often ditched them with grandparents who still spoke those dialects and enjoyed hearing them spoken again.

P.S. from Sicily also recalls his parents suffering from the nouveau-riches or nuovi-ricchi attitudes of the emigrants. His parents would regularly receive letters accompanied by photographs of all the possessions their relatives had recently purchased. Some even sent photos of the insides of overly full, man-high, double-door refrigerators. And when they came to visit, they were constantly comparing and critiquing his parent's lives with their own in their new country.

The emigrants were probably trying to prove to those back home, and to themselves, that they had made the right decision to leave Italy, and to overcome the guilt they felt at having left family and country behind, and perhaps, to encourage more to follow their example. But the effect was to build much resentment and envy that was often passed on to the next generation and directed at the descendants of the immigrants.

G. from Florence mentions her envy of the financial freedom of her relatives when they are visiting Italy. Because of their relative wealth, and reliance on credit cards, when they see something they like in a store window, they just go in and charge it, something she can't afford to do. When they come to visit, she gets depressed because it makes her focus on how much poorer she is. She understands they are not flaunting heir wealth, that the behavior is normal in their country, but it also upsets her and makes her feel worse off, even inferior.

Italians have only now started using credit cards instead of debit cards, and they still are far from carrying the same weight of debt as many citizens of other industrialized countries. Socially, it is less acceptable, and in a country that can suffer sudden turns in economic well-being, it is unwise. The growing economic ties within the European Union, namely with the Monetary Union that some members, including Italy, have joined, have made economic shifts less dramatic. This is leading to greater debt levels, but Italians savings levels are still some of the highest in the world. Economic prudence is the norm.

L., a Italian-Swedish (mother Swedish, father Italian), never set foot in Italy until she was twenty years old. Up to that time, she had dreamed of Italy as the place she would finally fit in. The petite, dark haired girl always felt out-of-place in tall, blond Sweden. To Swedes, she was not Swedish, but some kind of anomalous bastard; anomalous because she spoke Swedish fluently with no accent, a bastard because she was obviously not "pure-bred".

The shock was great then, when she arrived in Italy to study Italian and learn more about her father's culture, only to be treated as, yes, an anomalous bastard. She looked Italian but spoke the language with a Swedish accent, and had very liberal social views. She became deeply depressed when she realized she would never find a place where she felt she belonged. She eventually returned to Sweden because she could not live with the Italian views of women and their more limited roles and rights in Italian society.

L.'s views are natural for someone from liberal and sexually egalitarian Sweden. The views of hyphenated Italians visiting Italy differ greatly based upon where they grew up. The views are in the eye of the beholder.
Those from socially liberal and economically strong countries often find Italy parochial, illiberal, poor, disorganized, inefficient and corrupt.
Those from socially conservative and economically precarious countries often find Italy liberating, open-minded, wealthy, well-ordered, amazingly efficient, and less corrupt than back home.
V., an Italian-Canadian, actually followed her native Italian boyfriend's advice and pretended, for their Italian friends, to be distant cousins, by way of explaining their close relationship. He was afraid (this was in the early 80's) that his friends and strangers would think her a "free whore" if they knew they had met and fallen in love over a four week period during her vacation, before starting Italian language studies, in preparation for attending Italian university. They maintained the fiction with all their Italian friends, but revealed the truth to all their Canadian and American friends, who found the whirlwind love story beautifully romantic.
Another source of conflict may come from views about other cultures and mixed cultures. Italy is not an immigrant country, even with the new influx of economic immigrants from North Africa, Eastern Europe and Equatorial Africa. The numbers are relatively low, and their welcome into Italian society is practically non-existent. Sadly, in Europe, excluding immigrant England (except for that neo-fascist fringe that seems to inhabit all immigrant countries), immigrants are largely treated as outsiders who pollute and dilute the native culture. So it is no wonder that some see descendants of Italian emigrants as something less than Italian because of their polluted and diluted Italian culture.
J. is an Australian woman, who grew up in immigrant Australia, and is married to an Italian. She has lived all her married life in Italy. She was horrified when she encountered the anti-mixed culture attitude of Italians. It was all the more horrifying when it came from her daughter's school teacher who explained: "You can't expect your daughter to do as well in school as Italians, because as everyone knows, children of mixed cultures are usually retarded."
Part 1: Introduction
Part 3: Different Formative Experiences
Part 4: Some Words of Advice
Part 5: Conclusion
| | |
| --- | --- |
| | |
| | |
Follow Us
Featured Item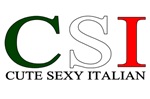 Shirts & Novelties
---
Partner Links Shops/Stores Italiansrus Gear
Proudly display the colors of Italy with these great products.

FORZIERI.com

The world largest online retailer for Premium Italian Fashions.
---
Travel