---
Resources
Art, Cuisine, Famous Italians, Festivals, Folklore, Genealogy, Holidays, Hotels, Photos, Real Estate, Sports, Travel and More
---
Guides
---
Surname Collection
Add your name to the collection.
---
Recipes
Authentic Italian recipes for you to enjoy.
---
Photo Galleries
Enjoy photos of Italy, wine making & more.
---
Proverbi
Proverbs in Italian & English.
---
Our Paesani
Weekly column dedicated to today's Italy.
by Francesca Di Meglio
---
Italian Memories
Articles on growing up Italian.
by Cookie Curci
---
Una Mamma Italiana
Articles for Italian mammas.
by Tiffany Longo
---
Learn Italian
English-Italian guides
Spanish-Italian guides.
---
Molto Italiano
Sign up for our FREE newsletter.
---
Trivia
Test your knowledge of Italy.
---
The Romantic Italian Heartthrobs and How They Made American Women Swoon
Part 2 of 2: Rossano Brazzi
Continued from part 1
Italian Memories
by Cookie Curci
During the 1950s and 60s another Italian born star, Rossano Brazzi, came to represent the fascinating Italian man. Born in Bologna, Italy, in 1917, Brazzi's life was turned upside down when his parents were killed by the Fascists. He fled his hometown and joined a repertory company just before the war in 1937. During WWII, Brazzi joined the resistance groups in Rome working with his fellow countrymen to fight and defy oppression. It seems this actor's real life was as exciting as his screen characters.
It wasn't until 1954 that Brazzi would ignite the screen in the romantic film, Three Coins in the Fountain (1954). He later starred in David Lean's romantic film Summertime (1955). An unforgettable film that still rekindles and inspires the romantic soul.
Brazzi was sympathetic in, The Barefoot Contessa (1954) disarming in, A Certain Smile (1958) ruthless in, Legend of the Lost (1957) musical in Rodgers and Hammerstein's, South Pacific (songs were actually sung by another Italian born star, Enzio Pinza). His rolls were varied and unique from one another. I can't remember ever seeing him portray a mob boss. The media had created a romantic image of the Italian leading man, an image that stimulated every woman's heart and every moviegoer's imagination.
These romantic Italian heartthrobs filled a void in the lives of all American moviegoers. They gave us romantic and fulfilling moments, little pieces of time that will remain with us forever.
By the 1970s, the world had become a smaller place where just about everyone was a jet setter. European film stars had lost their intriguing mystique.
During the 1970s and 80s, The names of Italian American actors, such as Al Pacino and Robert De Niro became household words. But not for their romantic images, rather for the nefarious Italian American characters they portrayed. It's my hope that the blossoming generation of new actors and directors will bring back to the screen the kind of romantic Italian images and stories that inspired movie fans to a better lifestyle; the kind of film that made every moviegoer's heart beat faster, not with fear, but with anticipation for the warmth, love and romance that is Italy's own.
Part 1: Marcello Mastroianni
| | |
| --- | --- |
| | |
| | |
Follow Us
Featured Item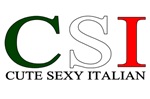 Shirts & Novelties
---
Partner Links Shops/Stores Italiansrus Gear
Proudly display the colors of Italy with these great products.

FORZIERI.com

The world largest online retailer for Premium Italian Fashions.
---
Travel Tour Italy
Customize your trip to Italy.