---
Resources
Art, Cuisine, Famous Italians, Festivals, Folklore, Genealogy, Holidays, Hotels, Photos, Real Estate, Sports, Travel and More
---
Guides
---
Surname Collection
Add your name to the collection.
---
Recipes
Authentic Italian recipes for you to enjoy.
---
Photo Galleries
Enjoy photos of Italy, wine making & more.
---
Proverbi
Proverbs in Italian & English.
---
Our Paesani
Weekly column dedicated to today's Italy.
by Francesca Di Meglio
---
Italian Memories
Articles on growing up Italian.
by Cookie Curci
---
Una Mamma Italiana
Articles for Italian mammas.
by Tiffany Longo
---
Learn Italian
English-Italian guides
Spanish-Italian guides.
---
Molto Italiano
Sign up for our FREE newsletter.
---
Trivia
Test your knowledge of Italy.
---
Interview With Italian Singer & Songwriter Romina Arena
Page 3 of 3
Continued from page 2
For the people who are not yet familiar with you and your songs. How would you describe/classify your music?
as I have said above I do pop opera a combination of both genres. Mario Lanza was the first pop opera star and I sing in 8 languages so please get your copy of YOU ARE GONNA HEAR FROM ME. I just released this album with the sounds of the London Symphony orchestra.
What do you want people to get from listening to your music?
Love, feeling love, singing love. Live your life at the fullest. I want to inspire people. That's why God gave me the gift of languages to be like an international ambassador.
What do you miss most about Italy? Is there something that you use to do on a regular basis in Italy that you cannot do in the United States?
I miss my mother and the language, my dialect that I cannot longer speak. Sometimes I feel lonely. Los Angeles is a great city but it can be very lonely.
Is there any singer you try to model yourself after?
Mario Lanza is my model. I'd love to sing soon a few of his songs in concert, however I have just recorded the song THIS LAND by Mario Lanza. I believe I am the only female young artist to ever have done such a thing That song is on my new CD. I hope you will like it!
Are there any projects that you are currently working on?
I am working on three TV concert specials with Dick Clark and Hank Saroyan. Three TV series with my partners Regina Randolph and Kathy Pacino. Two more movies, three major concerts and sponsorship deals. I am exhausted!
If you could do a duet with any singer in the world who would it be?
I would love to duet with Celine. I already worked on her stage but this time not as opening. I'd love to duet with her, Steve Wonder, Elton John, Josh Groban and Julio Iglesias.
What is your favorite Italian food?
The one that my mamma cooks for me!
Do you have time for hobbies or interests?
I love to read a lot, love movies and riding my horses by the Malibu beach. I just love PEOPLE..PEOPLE WHO NEED PEOPLE!
What words of advice do you have for aspiring singers and songwriters?
YOU ARE ALWAYS WHERE YOU NEED TO BE, WALK BY FAITH NOT BY SIGHT, SUCCESS IS NOT THE DESTINATION BUT THE JOURNEY, and it's a funny thing about life; if you refuse to accept anything but the very best you very often get it!
<< Previous Page
| | |
| --- | --- |
| | |
| | |
Follow Us
Featured Item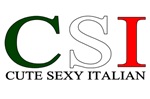 Shirts & Novelties
---
Partner Links Shops/Stores Italiansrus Gear
Proudly display the colors of Italy with these great products.

FORZIERI.com

The world largest online retailer for Premium Italian Fashions.
---
Travel Tour Italy
Customize your trip to Italy.