---
Resources
Art, Cuisine, Famous Italians, Festivals, Folklore, Genealogy, Holidays, Hotels, Photos, Real Estate, Sports, Travel and More
---
Guides
---
Surname Collection
Add your name to the collection.
---
Recipes
Authentic Italian recipes for you to enjoy.
---
Photo Galleries
Enjoy photos of Italy, wine making & more.
---
Proverbi
Proverbs in Italian & English.
---
Our Paesani
Weekly column dedicated to today's Italy.
by Francesca Di Meglio
---
Italian Memories
Articles on growing up Italian.
by Cookie Curci
---
Una Mamma Italiana
Articles for Italian mammas.
by Tiffany Longo
---
Learn Italian
English-Italian guides
Spanish-Italian guides.
---
Molto Italiano
Sign up for our FREE newsletter.
---
Trivia
Test your knowledge of Italy.
---
Interview with Italian American Actress and Model Robin Arcuri
Part 2 of 3 - Robin's Career
Continued from part 1
Interviewed by Anthony Parente
When did you first realize that this is what you wanted to do?
I was a tom boy and an ugly duckling, or so I thought. I never imagined being a model much less working in all categories of modeling.
When we first heard of you it was because you had just finished modeling in fashion week. You are the first model under 5'6" at the age of 18 who managed to model runway for couture fashion. Was it difficult for you as a petite model to break into runway?
Yes it was very difficult and probably just as challenging as it was for plus sizes to do the same. When I first began modeling runway I was very young, and I did bridal shows, so it was okay to be 5'3" but as soon as I grew into my height I began to hear that I wouldn't be tall enough to fit the sample sizes. Also that I wouldn't be able to do runway anymore. I was really upset because I enjoyed that one category of modeling most. I never lost hope in opening up new doors for myself, but I lost faith in the agents & bookers who controlled everything in fashion. Funny, when designers would see me out they would ask me if I'd be willing to come by their offices to try on some of the samples so I could model for their line. They never expressed concern in regard to my height, so I knew something was terribly wrong. Especially in fashion print. One of them showed me how to obtain the designer directory listing from the Los Angeles Mart, she was brilliant and caring. I took her advice, and began making calls. Other than the designers I'd meet out that's how I broke into fashion! In 1991 I was the youngest & shortest girl on any runway modeling fashion at the time who wasn't a celebrity. In 1991, I won a Supermodel competition and that brought in even more work. I think I still have the T-shirt from that competition. Kate Moss popped into the scene shortly afterward with her "antisupermodel" campaign and did quite well actually. We are both known for our uncommon modeling height in fashion modeling, and for appearing in many advertising campaigns. I suppose perseverance does pay off.
Finishing runner-up in the Miss Teen California Pageant at the age of 13 must have been a thrill of a lifetime. Did you ever imagine that this would lead to your career in modeling?
Yes and no. I was aghast when my mother told me that she had entered me into a pageant. I hadn't worn heels a day in my life, disliked makeup, had a horrible boyish haircut and carried the common dialog of a 13 yr old boy. The transformation began, I sort of embraced the new look and just took it day by day. I was so frightened when I stepped backstage, through that curtain, entering the dressing room that my face began to twitch. I was alone, scared and had no idea how to put on the lip liner I was told to wear. I recall someone saying "just make sure you connect the lines in the corners of your mouth" so I did. To be honest, after the pageant I wanted nothing to do with modeling or public events, but the managers and agents helped change my mind.
What do you love about modeling?
What I love about modeling is that I have the opportunity to travel and meet a diverse group of people. I have all expense paid trips to see the world and the cultures that decorate it with their uniqueness and beauty; this is a great gift to me. I get to share my creative side. I also have the power to take what fame I have and use it for meaningful purposes, to make a difference in this world that is the ultimate goal anyway. Plus size models shouldn't be left out of runway modeling and neither should petites after all they buy & wear & as a result support couture fashion designers right?!
Modeling opened up the door for you to pursue acting. Will you continue to model or will you strictly stick to acting?
I will continue to model and act just as long as my fans want to see more. I never want to be where I am unwanted.
What would be your dream acting role?
I've always wanted to play a female Robin Hood. Or a female Robin with Batman.
Other than Producing your first film, what have been some of your most notable accomplishments to date?
I had a beauty contract with Maybelline, modeled & campaigned for notables such as Calvin Klein, Ralph Lauren, GUCCI, Chanel, Flayva Fashion, Life Fitness, Pacific Fitness, Body Glove Sportswear, Ujena Swimwear, & Bench Warmer trading cards just to name a few. In runway I opened shows for designers which in turn opened doors for more petites in the fashion industry. Buyers see that petites such as myself and Kate Moss are capable, marketable and a necessary part of advertisement in fashion. In commercial acting; The Dallas Stars Stanley Cup Playoffs, Mountain Dew, & Budweiser were pretty competitive. Thousands of girls auditioned from across the continent for those regional and national spots. I also love the video for Brooks and Dunn (Beer Thirty) where I play one of 2 leads, opposite of the angel, in a club full of women. Working with Chuck Norris on Walker Texas Ranger, Adrian Grenier & Kevin Connolly on Entourage, and with Philippe Caland, Forest Whitaker and Minnie Driver in the film Ripple Effect was pretty awesome. Caland was so amazing, & such a kind person. I also plan to do more in Production when the time is right. I can't finish this without mentioning the teen movie I did called Miracle Beach where I played Miss Germany. That's why people began recognizing me and saying that they saw me in that film. It's too bad I was booked on another commercial when they cast, or my role would have been more significant. My efforts with PETA, ASPCA, The Humane Society, The American Cancer Society, Hands Across America, and many others since I was very young have giving me the feeling that I've finally made an impact in today's overall level of awareness and that is what I'm most proud of.
What actor/actress would you love to do a movie with?
I would love to work with Ed Norton & Richard Gere. As for women, Julia Roberts & Diane Lane.
Are there any projects that you are currently working on?
Currently I am in pre production with three films & I am writing an autobiography. I am also continuing to do my charity work and assisting when we have emergencies or disasters and the red cross needs people.
What are the three movies you are currently working on?
I am writing and producing a SAG short film comedy Loophole. I am acting in Totem by Whitehorse Entertainment. Lastly, The Maximum Contribution based on the book written by award winning writer Rick Robinson.
What role do you play in each movie?
In all three movies I play the lead character.
In Totem I play Debbie, a photographers assistant.
In Loophole I play Hannah, a young savvy mother and wife.
In The Maximum Contribution, a senator's wife.
When are these movies tentatively scheduled to be released?
Totem is set to shoot in June 2009.
Loophole does not have any dates set.
The Maximum Contribution does not have any dates set.
Part 3:
The Real Robin
Article Published 2/16/09
Updated 7/15/09
| | |
| --- | --- |
| | |
| | |
Follow Us
Featured Item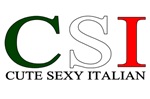 Shirts & Novelties
---
Partner Links Shops/Stores Italiansrus Gear
Proudly display the colors of Italy with these great products.

FORZIERI.com

The world largest online retailer for Premium Italian Fashions.
---
Travel Tour Italy
Customize your trip to Italy.