---
Resources
Art, Cuisine, Famous Italians, Festivals, Folklore, Genealogy, Holidays, Hotels, Photos, Real Estate, Sports, Travel and More
---
Guides
---
Surname Collection
Add your name to the collection.
---
Recipes
Authentic Italian recipes for you to enjoy.
---
Photo Galleries
Enjoy photos of Italy, wine making & more.
---
Proverbi
Proverbs in Italian & English.
---
Our Paesani
Weekly column dedicated to today's Italy.
by Francesca Di Meglio
---
Italian Memories
Articles on growing up Italian.
by Cookie Curci
---
Una Mamma Italiana
Articles for Italian mammas.
by Tiffany Longo
---
Learn Italian
English-Italian guides
Spanish-Italian guides.
---
Molto Italiano
Sign up for our FREE newsletter.
---
Trivia
Test your knowledge of Italy.
---
Your Letters: Reader Reaction to Robert De Niro's Honorary Italian Citizenship
Page 2
Continued from page 1
Our Paesani
The opinions expressed in this article are those of the readers and are not necessarily shared by the proprietors, editors or other writers at ItaliansRus.com.


"As an Italian-American woman who has been affected by the Hollywood image of Italian Americans, I feel compelled to write and tell you that in my heart, I can also find a place to laud Mr. De Niro. I never expected him as an actor to write his own films or even his own roles. I also never expected him to give up his dream of being an actor because the roles that would most benefit the lot of us were not available to even audition for.

I understand the uproar about the stereotyping; I was a 90-pound, 13-year-old, big-eyed Italian American girl when I flew from the Chicago area to visit my Arizona cousins. For two weeks, I endured ridiculous questions from non-Italian American children in Phoenix. From 'Are you in the mafia?' to 'Can I see your gun?' accompanied by the rat-a-tat sound of children emulating machine gun fire. But I suppose it is not unlike what every other child endures. There will always be jibes about weight, or names, or clothing until we educate our children better. In that vein, I think you hit the nail on the head.

Although I despise stereotyping, I agree that our quarrel is better suited for bigger things. Poverty, misery, abuse of children all need to be addressed. De Niro (a product of the melting pot like many of us and equally eligible for dual citizenship) took the roles that were available to him and pulled them off well. The more honors our Italian American acting community receives, the better equipped they will be to open up more positive roles for future dramatists."--LLL
Continued on page 3
Related Article
| | |
| --- | --- |
| | |
| | |
Follow Us
Featured Item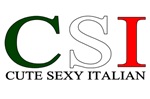 Shirts & Novelties
---
Partner Links Shops/Stores Italiansrus Gear
Proudly display the colors of Italy with these great products.

FORZIERI.com

The world largest online retailer for Premium Italian Fashions.
---
Travel