---
Resources
Art, Cuisine, Famous Italians, Festivals, Folklore, Genealogy, Holidays, Hotels, Photos, Real Estate, Sports, Travel and More
---
Guides
---
Surname Collection
Add your name to the collection.
---
Recipes
Authentic Italian recipes for you to enjoy.
---
Photo Galleries
Enjoy photos of Italy, wine making & more.
---
Proverbi
Proverbs in Italian & English.
---
Our Paesani
Weekly column dedicated to today's Italy.
by Francesca Di Meglio
---
Italian Memories
Articles on growing up Italian.
by Cookie Curci
---
Una Mamma Italiana
Articles for Italian mammas.
by Tiffany Longo
---
Learn Italian
English-Italian guides
Spanish-Italian guides.
---
Molto Italiano
Sign up for our FREE newsletter.
---
Trivia
Test your knowledge of Italy.
---
A Recipe for Love, Italian Style
Part 3 of 3: Contorno, Frutta e Espresso
Continued from page 2
Our Paesani
Contorno Contorno means side dish. Simple steamed vegetables like broccoli taste great and are good for you. If you want to stick with an Italian theme, broccoli rabe is an even better choice. A green salad featuring arugula or radicchio and tossed with either olive oil and balsamic vinegar or olive oil and lemon with salt is always served after the second dish in Italy. Italians believe this helps the food go down better. Follow up by passing around a plate of finocchio or fennel, whose anise taste is another digestive aid.
Frutta
Finally, many Italians pass around the fruit bowls – filled with pears, apples, tangerines, bananas – depending on the time of year. This is often offered instead of dessert, which is rarely served at home in Italy. Generally, Italians reserve their pastry eating for caffes or special holidays.
Espresso
Your best wines (homemade if you have it) should be served with your meal, of course. But a shot of espresso with sugar or Sambuca, depending on who you're talking to, is a great pick me up for your guests as they get ready to depart. If you miss those sweets, you can offer biscotti or a piece of Italian chocolate with the espresso. The only downside: After experiencing a menu like this, your guests may never want to leave.
Part 1: Antipasto
Part 3: Primo e Secondo Piatto
| | |
| --- | --- |
| | |
| | |
Follow Us
Featured Item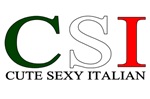 Shirts & Novelties
---
Partner Links Shops/Stores Italiansrus Gear
Proudly display the colors of Italy with these great products.

FORZIERI.com

The world largest online retailer for Premium Italian Fashions.
---
Travel Tour Italy
Customize your trip to Italy.