---
Resources
Art, Cuisine, Famous Italians, Festivals, Folklore, Genealogy, Holidays, Hotels, Photos, Real Estate, Sports, Travel and More
---
Guides
---
Surname Collection
Add your name to the collection.
---
Recipes
Authentic Italian recipes for you to enjoy.
---
Photo Galleries
Enjoy photos of Italy, wine making & more.
---
Proverbi
Proverbs in Italian & English.
---
Our Paesani
Weekly column dedicated to today's Italy.
by Francesca Di Meglio
---
Italian Memories
Articles on growing up Italian.
by Cookie Curci
---
Una Mamma Italiana
Articles for Italian mammas.
by Tiffany Longo
---
Learn Italian
English-Italian guides
Spanish-Italian guides.
---
Molto Italiano
Sign up for our FREE newsletter.
---
Trivia
Test your knowledge of Italy.
---
A Recipe for Love, Italian Style
Part 2 of 3: Primo e Secondo Piatto
Continued from page 1
Our Paesani
Primo Piatto
Pasta with Marinara sauce - Every family has its own recipe for marinara sauce. I'm not about to part with mine. But you can find suitable directions on most cooking Web sites or in basic cookbooks. The more advanced chef might want to try vodka sauce or linguine with a red or white clam sauce. Your best bet is to go straight to your parent, nonni or eldest living aunts and uncles for recipes straight from the Homeland - and the heart.
If you'd really like to impress your guests, you might want to try making fresh pasta, ravioli or gnocchi. For an easy-to-learn gnocchi recipe, pick up a book by chef Lidia Bastianich. Marcella Cooks by Marcella Hazan offers similar simple instructions for fresh pasta and ravioli. But if you decide to do this and have never done it before, I suggest practicing more than once before actually making it for a dinner party - and always have some dry pasta on hand in case things don't go your way when the guests arrive.
Secondo Piatto
In Italy, pasta is just the start of the meal. Next, you should have some sort of meat or fish to serve. I like frying thin steaks in garlic and olive oil or roasting a chicken that has been bathed in oil, garlic, and red wine. Those of us in Ischia, and a few other parts of Italy, enjoy rabbit in a garlic and wine sauce. Sole and swordfish or tuna steaks with lemon are great options for fish lovers. Again, you can find recipes for all sorts of dishes at any cooking site or in books or magazines that specialize in Italian cuisine. Cucina Italiana is a great publication for finding authentic recipes.
Part 1: Antipasto
Part 3: Contorno, Frutta e Espresso
| | |
| --- | --- |
| | |
| | |
Follow Us
Featured Item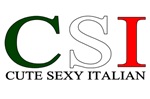 Shirts & Novelties
---
Partner Links Shops/Stores Italiansrus Gear
Proudly display the colors of Italy with these great products.

FORZIERI.com

The world largest online retailer for Premium Italian Fashions.
---
Travel Tour Italy
Customize your trip to Italy.