---
Resources
Art, Cuisine, Famous Italians, Festivals, Folklore, Genealogy, Holidays, Hotels, Photos, Real Estate, Sports, Travel and More
---
Guides
---
Surname Collection
Add your name to the collection.
---
Recipes
Authentic Italian recipes for you to enjoy.
---
Photo Galleries
Enjoy photos of Italy, wine making & more.
---
Proverbi
Proverbs in Italian & English.
---
Our Paesani
Weekly column dedicated to today's Italy.
by Francesca Di Meglio
---
Italian Memories
Articles on growing up Italian.
by Cookie Curci
---
Una Mamma Italiana
Articles for Italian mammas.
by Tiffany Longo
---
Learn Italian
English-Italian guides
Spanish-Italian guides.
---
Molto Italiano
Sign up for our FREE newsletter.
---
Trivia
Test your knowledge of Italy.
---
Neptune's Grotto (Grotta di Nettuno)
By Anthony Parente

Just a short trip from Alghero, Sardinia within the limestone cliffs of Capo Caccia is a geological wonder and one of the most fascinating natural jewels of the Mediterranean Sea known as Neptune's Grotto (Grotta di Nettuno). The grotto was discovered by a local fisherman back in the eighteenth century. It was this fisherman who decided to call this Neptune's Grotto after the Roman god of the sea. I can only assume that once he saw how beautiful and majestic the cave system was that he immediately knew that this was a place that a Roman god would call his home.

What makes this area so impressive is that the estimated length of the entire cave system is 4 kilometers. Within you will find an array of caverns, crystal clear lakes, wide passages, deep wells and narrow passages. Natural formations of stalactites and stalagmites can be seen throughout the caverns. In addition to the natural formations you can see a number of different species of sea life ranging from starfish, sea urchins and eels. This area was once home to the monk seal, but with all the visitors they have moved to quieter areas in the Mediterranean. All toll the cave system attracts over 150,000 tourists from all over the world. The entire cave system is not open to the public due to safety concerns. Speleologists are the only ones allowed to delve into the inner recesses. Guided tours only take you about 200 meters into the cave and last about 30-45 minutes. The area is illuminated which creates some incredible visual effects on the cavern walls. A quick fun fact about the grotto is that it was the setting for the 1979 movie L'isola degli uomini pesce (Island of the Fishmen) directed by Sergio Martino and starring Barbara Bach & Claudio Cassinelli.

Initially the only way to travel to the grotto was by boat. This changed in 1954 when steps were cut into the cliff in a zigzag pattern making the grotto accessible by land. The trip by land is a 45-minute drive from Alghero. Once you reach your destination on Capo Caccia you will then need to go down 654 steps, which are referred to as the escala del cabirol (billy goat steps). If you are afraid of heights or think you may have difficulty going down the steps and then coming back up them then you may want to choose getting to the cave from the sea. You can do so at the port of Alghero. They have boat trips for a fee, which does not include the entrance fee to the Grotto, that depart at regular intervals (every hour during the summer months and less frequently during the spring and autumn months). No matter when you decide to go you need to make sure the caves are open to visitors. With the opening of the cave at sea level they will cancel tours and close the caves to visitors if the weather is bad. Whichever way you decide to go you will see some awesome sights and breathtaking views.

Additional Resources:
Neptune's Grotto Photo Gallery
Sardinia Regional Guide
| | |
| --- | --- |
| | |
| | |
Follow Us
Featured Item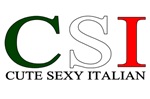 Shirts & Novelties
---
Partner Links Shops/Stores Italiansrus Gear
Proudly display the colors of Italy with these great products.

Italian Charms

Huge selection of Italian charms and jewelry. FORZIERI.com

The world largest online retailer for Premium Italian Fashions.
---
Cuisine/Food CyberCucina.com
Fine gourmet foods and more. Gustobene.com
Use code Italiansruspromo to receive a 10% discount off your entire purchase.
---
Travel Tour Italy
Customize your trip to Italy.