---
Resources
Art, Cuisine, Famous Italians, Festivals, Folklore, Genealogy, Holidays, Hotels, Photos, Real Estate, Sports, Travel and More
---
Guides
---
Surname Collection
Add your name to the collection.
---
Recipes
Authentic Italian recipes for you to enjoy.
---
Photo Galleries
Enjoy photos of Italy, wine making & more.
---
Proverbi
Proverbs in Italian & English.
---
Our Paesani
Weekly column dedicated to today's Italy.
by Francesca Di Meglio
---
Italian Memories
Articles on growing up Italian.
by Cookie Curci
---
Una Mamma Italiana
Articles for Italian mammas.
by Tiffany Longo
---
Learn Italian
English-Italian guides
Spanish-Italian guides.
---
Molto Italiano
Sign up for our FREE newsletter.
---
Trivia
Test your knowledge of Italy.
---
Buying Property in Italy
Part 2 of 4: Contratto preliminare di vendita (Preliminary contract)

Once you have chosen your property you should engage the services of a solicitor, whether you buy through a real estate agent or directly from the vendor. The knowledge of an Italian solicitor on Italian real estate law is invaluable - plus he is there to look after your interests.

When buying a property in Italy the first document you will be called upon to sign is the so called "proposta irrevocabile d'acquisto" (reservation offer), which is normal practice when purchasing through an estate agent. On the other hand when purchasing directly from the vendor (private sale) this document is not normally used. This is one of the many reasons why a solicitor should always be engaged.

By signing the proposta irrevocabile d'acquisto you will be taking the property off the market for a limited period of time, normally 15 days. During which time your solicitor, and where necessary assisted by a surveyor, will make all the necessary searches to ascertain that the property is without any debts, mortgages, claims etc., thereby assuring that there will be no unpleasant and possibly costly surprises during the last stage of the purchase. At this stage you will be required to pay a small deposit , which is normally held by the estate agent or solicitor until the offer is formally accepted (signed) by the vendor. Should you finalize the purchase, this deposit will be considered as partial payment of the purchase price. If the vendor does not formally accept the offer your deposit shall be returned to you. It is important to highlight the fact that the reservation offer is only binding for the buyer until formal written acceptance by the vendor. Once signed by both parties it becomes a legally binding contract.

Please note, any statement made in this article is intended to be a general practical introductory explanation only and not formal legal advice. De Tullio Law Firm and Italiansrus.com accepts no liability or any responsibility for any statement made.
| | |
| --- | --- |
| | |
| | |
Follow Us
Featured Item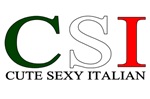 Shirts & Novelties
---
Partner Links Shops/Stores Italiansrus Gear
Proudly display the colors of Italy with these great products.

FORZIERI.com

The world largest online retailer for Premium Italian Fashions.
---
Travel Tour Italy
Customize your trip to Italy.