---
Resources
Art, Cuisine, Famous Italians, Festivals, Folklore, Genealogy, Holidays, Hotels, Photos, Real Estate, Sports, Travel and More
---
Guides
---
Surname Collection
Add your name to the collection.
---
Recipes
Authentic Italian recipes for you to enjoy.
---
Photo Galleries
Enjoy photos of Italy, wine making & more.
---
Proverbi
Proverbs in Italian & English.
---
Our Paesani
Weekly column dedicated to today's Italy.
by Francesca Di Meglio
---
Italian Memories
Articles on growing up Italian.
by Cookie Curci
---
Una Mamma Italiana
Articles for Italian mammas.
by Tiffany Longo
---
Learn Italian
English-Italian guides
Spanish-Italian guides.
---
Molto Italiano
Sign up for our FREE newsletter.
---
Trivia
Test your knowledge of Italy.
---
Interview With Italian Singer & Songwriter Giada Valenti
Page 2 of 3
Continued from page 1
Congratulation on winning the "San Remo New Talents in the World" contest with your pop ballad "Solo con Te" (Only With You). What has winning this contest done for you and your career?
Thank you! I won this contest in 2001. At the time I was living in Holland. I had just gotten married, and although I was very young, I was thinking of starting a family. After winning the contest, I signed a contract with BMG and began touring Europe to promote my CD. I haven't stopped since!
For the people who are not yet familiar with you and your songs. How would you describe/classify your music?
I have this dream of bringing to life Italian American and Neapolitan songs of the past. I love that music! And there are so many beautiful songs. Songs by Dean Martin, Rosemary Clooney, Frank Sinatra Perry Como. And I like to bring them to young audiences in my own way, with a touch of jazz and Latin in the arrangements.
Tell us about your latest CD "Italian Signorina"?
This is a short CD, with only 5 songs, what they call EP. There are 3 original songs, written by myself, and two famous Italian songs, Caruso and Quando Quando. We recorded the songs in Denmark and New York. I'm really proud of it. It's the first baby step into the giant American music business scene. But I'm already receiving a great response to it. Thanks to this small project there are already a few important people in the business interested in hearing more and doing more with my music and me.
What is your favorite song from "Italian Signorina"?
I love all of them, but if I have to choose one, it will be "But Beautiful". I wrote this song to celebrate my love story.
When did you move to New York & what do you like so far about the city and the people?
I moved to New York City in May 2005. Well, I love New York. This place has a magical power. It goes into your heart and you can never leave again. Everybody who's never been here thinks that Manhattan is busy, only cars and cabs, and people walking fast with a Starbucks café in their hand. They think that Manhattans is Time Square. Well, what I love about New York is that the city is vibrant – so much has happened here. I love that the city has many small and big parks, where children can play, where dogs can have their own place to play. I love the fact that the city is so different, depending on which neighborhood you are in. I live all the way Downtown, and I love it. It is so quiet and still in the city. I love New Yorkers. I always talk with people on the street or in the train. If you look at a map, in a matter of a New York minute, some new Yorkers are already asking you where you have to go so they can help you. This is so unique and nice. If you ask for information in Italy, even if you are in a small village, you will have the feeling that everybody is from somewhere else, because they will respond to you, " I'm sorry, I'm not from here"!! I love this place!!!
What do you miss most about Italy? Is there something that you use to do on a regular basis in Italy that you cannot do in New York or the United States?
Well, I miss my family and my friends. For the rest you can do and find everything you want here .I have found my way so I'm really not missing anything. I know where to find good Italian food, real Italian café' and the best Italian gelato. I have met some friends, Italian –American, that are so close to me that I even have Italian family reunions, like in Italy, but with their family. I call them my new American family.
Next Page >>
| | |
| --- | --- |
| | |
| | |
Follow Us
Featured Item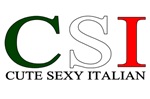 Shirts & Novelties
---
Partner Links Shops/Stores Italiansrus Gear
Proudly display the colors of Italy with these great products.

FORZIERI.com

The world largest online retailer for Premium Italian Fashions.
---
Travel Tour Italy
Customize your trip to Italy.