---
Resources
Art, Cuisine, Famous Italians, Festivals, Folklore, Genealogy, Holidays, Hotels, Photos, Real Estate, Sports, Travel and More
---
Guides
---
Surname Collection
Add your name to the collection.
---
Recipes
Authentic Italian recipes for you to enjoy.
---
Photo Galleries
Enjoy photos of Italy, wine making & more.
---
Proverbi
Proverbs in Italian & English.
---
Our Paesani
Weekly column dedicated to today's Italy.
by Francesca Di Meglio
---
Italian Memories
Articles on growing up Italian.
by Cookie Curci
---
Una Mamma Italiana
Articles for Italian mammas.
by Tiffany Longo
---
Learn Italian
English-Italian guides
Spanish-Italian guides.
---
Molto Italiano
Sign up for our FREE newsletter.
---
Trivia
Test your knowledge of Italy.
---
Centro Arte Moderna e Contemporanea della Spezia
Part 4 of 6: The Cozzani Collection

Gordon Matta-Clark
Roof top, 1973
P.za Battisti, 1
19121 La Spezia
Italia
tel.: 0187 734593
fax: 0187 256773
Website

About one thousand two hundred works constitute the collection donated to the Commune of La Spezia by Giorgio and Ilda Cozzani in 1998. Among them about eighty works of sculpture and about three hundred drawings and paintings, and an imposing collection of graphic art, document the Twentieth Century, moving freely in every direction. A succession of events that lasted over fifty years, in which friendly relations between the collector from La Spezia (who was a consultant in dermatology) and artists and art gallery managers, mixed freely with travels to Germany and to France in search of the missing piece, visits and purchases at the Venetian Biennale or the Roman Quadriennale, or to Kessel for Documenta.

Among the numerous thematic nuclei, collected with great competence and far-sightedness, one should underline Expressionism, from the xylographies of the beginnings to the Neue Wilden, the Bauhaus, Surrealism, the Figurativism of the second post-war period, the "Gruppo degli Otto" (Group of Eight), a relevant Non-representational presence, the Cobra group, and the possibly unique presence, in Italy, of Spur. Important examples of Spatialism and of Geometric Abstractionism are not missing, up to the most recent movements such as Kinetic and Programmatic Art, Optical, Conceptual and Minimal Art, Arte povera (Poor Art), the most typical Pop and its less known forms, and moreover Land Art, Fluxus, Body Art and Performance, that Cozzani lived personally, taking part to the events, the Tran avant-garde movement.

Part 5: The Battolini Collection
---
Part 1: Museum's History
Part 2: The Drift Towards Contemporaneity
Part 3: The "Golfo della Spezia" Prize
Part 4: The Cozzani Collection
Part 5: The Battolini Collection
Part 6: Museum Services
---
"Courtesy of CAMeC. Text & photos reprinted with permission."
| | |
| --- | --- |
| | |
| | |
Follow Us
Featured Item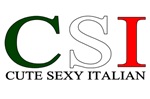 Shirts & Novelties
---
Partner Links Shops/Stores Italiansrus Gear
Proudly display the colors of Italy with these great products.

FORZIERI.com

The world largest online retailer for Premium Italian Fashions.
---
Travel Tour Italy
Customize your trip to Italy.