---
Resources
Art, Cuisine, Famous Italians, Festivals, Folklore, Genealogy, Holidays, Hotels, Photos, Real Estate, Sports, Travel and More
---
Guides
---
Surname Collection
Add your name to the collection.
---
Recipes
Authentic Italian recipes for you to enjoy.
---
Photo Galleries
Enjoy photos of Italy, wine making & more.
---
Proverbi
Proverbs in Italian & English.
---
Our Paesani
Weekly column dedicated to today's Italy.
by Francesca Di Meglio
---
Italian Memories
Articles on growing up Italian.
by Cookie Curci
---
Una Mamma Italiana
Articles for Italian mammas.
by Tiffany Longo
---
Learn Italian
English-Italian guides
Spanish-Italian guides.
---
Molto Italiano
Sign up for our FREE newsletter.
---
Trivia
Test your knowledge of Italy.
---
The Making of Villa Tre Angeli
Part 5: The Big Idea
Present day.

My mother worried about me being so far away from home. Italy was so different from what I was used to. I was always calling home saying, "Mom, you won't believe it...but Mannie just gave his mother the key to our house!" or "The mason drank a 3-liter bottle of wine and put up our wall crooked!" or "Mom, the heat is only on 58 degrees. I wear three or four sweaters. I feel like the Michelin Man! When I say to Mannie...Honey, can we push up the heat?" He would reply, "Put on another sweater." As I look back now, I realize that he worked in the Butcher shop all day with marble floors, NO heat and only cold water. He was in and out of the walk in fridge. For him, 55 would have been the perfect temperature. He would come home to 58-degree weather and be sweltering! He could not take off more than he did or he would have to walk around in his birthday suit all day. It only made sense for me to keep adding a garment. My mother could not imagine living like that.

I suppose she thought that making life easier in other areas would help me be less traumatized. She was also concerned that I would be homesick. I suppose she could not even fathom being so far away from her own mom, so she figured out a solution to this dilemma. She started to send us her friends, friends of friends, people we didn't know; some she didn't even know, but heard were coming to Northern Italy, talking them into coming to us, even before we had the B&B and asked us to show them around. I would constantly complain, "Mom, stop doing that! This is a one-horse town. There is nothing interesting to do here! I am shy and have a hard time talking to people I do not know. Please, you're killing me." Her response was simple, "Honey, your town is adorable. You are more outgoing than you think. You will see. Everyone will love it." Every time she told me someone was coming, I would cringe. I worried about what we would have them do, what we could show them. When they would visit, they would rave about the beauty of the town and the fact that there were no other Americans. I really could not understand the wonder of it all. All I saw was a bunch of Italians that did not like to work. Everything just seemed old to me. It was so hard getting anything done. Reflecting back, I realize that it was probably because I was struggling to adjust to so many changes in my life. I had to learn Italian, get to know my husband's family, make friends, renovate the villa and take the kids to the doctors on my own trying to decipher Italian medical jargon and find something to do in my free time. I was homesick for my family and friends, and I no longer had a job. My mother saw an opportunity to make sure I had someone from my area around to occasionally break the monotony and in which to speak English. She saw that Mannie and I developed a passion for showing people the area and there were many wonderful things to see. He was charismatic and I was affectionate. However, if she had suggested starting a tour business, we would have laughed in her face! We definitely would have ended that conversation in, "What are you kidding? That is a lot of work and not at all what we went to school for!" The more her acquaintances came to visit, the more we saw the beauty in showing them around. The more they loved our village, the more I realized how awesome it really was. We actually had a lot of fun meeting new people and seeing how much they loved our area. I am not sure how I could have lived in Bedonia all those years with blinders on. But they are off! And I am so happy to be able to enjoy the amazing Italian life the way it is meant to be lived. Bedonia is an awesome place to get away from the tourists and enjoy the fresh mountain air. It is a safe place to have kids and has given us the tranquility that every parent searches for while raising a family. We finally came up with "The Big Idea" of a tour company ALL BY OURSELVES. Many years later, it dawned on me that there was a method to my mother's madness! Lying in bed one night, I exclaimed to Mannie, "Wait a minute! She totally set us up. She wasn't being pesky or pushy; she was just plotting her scheme that she saw for our future." She surely saw the potential in our home and in our personalities. She laid her web ever so gently. She coerced us into it with love and now that we are there, we know that this is exactly where we want to be. The woman was truly an amazing person. She knew what was right for us and knew not to push us into anything. It all just fell into place and she never told us that it was her idea.

We have owned our B&B and Tour business for the past sixteen years. We love what we do and would not dream of doing anything else. We explore within a two and a half radius of our B&B or we traverse all over Italy. We make hotel reservation in other areas and coordinate tours anywhere a person wants to go. We cater to your needs. We do a couple of people at a time or small groups. There is absolutely no reason for anyone to worry about how to get around or to miss out on something spectacular. We know things that the travel books do not. However, our favorite excursions are showing guests the local flavor, and doing what the locals do. There is no better way to visit Italy than to delve into the culture like an Italian. So many other tours just chug along the typical tourist route; cluttered with crowds and smothered by tourists. It is unfortunate, that most people miss the opportunity to marvel at the true Italian culture. The Italians truly know how to relax and enjoy their country. So many hidden treasures make this place a gem. Do not just go blindly with the heard. Break out of the mold and free yourselves. Come explore Italy with us! Mannie and I are waiting for you. For information go to www.VillaTreAngeli.com or call (732)927-0610.
| | |
| --- | --- |
| | |
| | |
Follow Us
Featured Item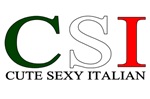 Shirts & Novelties
---
Partner Links Shops/Stores Italiansrus Gear
Proudly display the colors of Italy with these great products.

FORZIERI.com

The world largest online retailer for Premium Italian Fashions.
---
Travel