---
Resources
Art, Cuisine, Famous Italians, Festivals, Folklore, Genealogy, Holidays, Hotels, Photos, Real Estate, Sports, Travel and More
---
Guides
---
Surname Collection
Add your name to the collection.
---
Recipes
Authentic Italian recipes for you to enjoy.
---
Photo Galleries
Enjoy photos of Italy, wine making & more.
---
Proverbi
Proverbs in Italian & English.
---
Our Paesani
Weekly column dedicated to today's Italy.
by Francesca Di Meglio
---
Italian Memories
Articles on growing up Italian.
by Cookie Curci
---
Una Mamma Italiana
Articles for Italian mammas.
by Tiffany Longo
---
Learn Italian
English-Italian guides
Spanish-Italian guides.
---
Molto Italiano
Sign up for our FREE newsletter.
---
Trivia
Test your knowledge of Italy.
---
The Making of Villa Tre Angeli
Part 4: The Renovation
Villa before renovations.

Living with my new, ITALIAN family was not my idea of a Newlywed's dream. Though I loved them, I did not want to live there forever. However, the mere thought of that decrepit, old house (our future home) that stood next-door in shambles made me shutter in fear. I could not wait to start renovations. The villa was gigantic. There was no way we wanted to live in the whole building by ourselves. We decided to divide it into eight apartments. We thought we would like to rent them out, while keeping one as our residence.

Let the renovations begin!

Our Villa was built in 1901, and we wanted to keep the character of the building true to its era while updating it with modern conveniences. We began with our apartment.

We asked a local plumber to come look at what needed to be done. HOT WATER was definitely at the top of the list! After showing him our plans, I asked for an estimate. He was completely indignant. He turned to my husband in disgust saying, "What the heck is she butting in for? No one around here asks for estimates!" Humiliated, Mannie turned to me and hushed my concerns. When the job was finished, we ended up paying twice as much as we should have. We were startled by the price. We figured how many hours it would take and based on the hourly rate for a plumber it was far less than what the plumber was asking. We mentioned it to a friend in the same business and he assured us that we totally overpaid. After this experience, Mannie told me I was right in asking for an estimate and from now on, he would make sure we got one.

Moving on to the next job, while interviewing the mason, Mannie turned to me and said in English, "You can ask for an estimate." I turned to the man that was going to do the work and asked him kindly for an idea of how much the job would cost. He turned to my husband flustered saying, "What is a woman doing asking these ridiculous questions?" Mannie calmly replied, "Quello che vuole la signora e' quello che faremo!" This translated to "What the woman wants, is what we will do!" The man cleared his throat, embarrassed. Finally, the contractors began listening to me and the renovations were definitely more affordable.

The masons, carpenters, blacksmiths we hired, all worked toward keeping on budget, but none kept to a time-line or wanted to do the restorations the way we requested. The Italians love modern furnishings, and the contractors did everything in their power to sway our decisions. But, in keeping with the Villas period, we wanted to keep it classic, with dark wood ceilings. The carpenter wanted to stain the ceilings and doors with clear stain, which would give the house a much more rustic look. I fought for a month as he came to me daily with another shade ever so slightly darker than the last. We finally got the color we were looking for, but not without a daily battle. I wanted to replace the bright, blue, plastic handrail with a wooden one on our regal, marble staircase. I was considered a wacky American that did not see the beauty in the more modern bright blue plastic! Their comments, "Why change it? It's fine like this!" would send me in a tizzy. The amazing stained-glass windows were a little tough to fix. They wanted me to throw them out and replace them with aluminum ones. No matter how much I insisted, they refused to work on them saying that they could not be repaired. I had to take the windows down, clean them up and fix them myself. When they saw the final product, they said, "Oh yah, I guess we could've done it that way!" I wanted my fireplace mantel to be six feet high, but my mason said the "in thing" was to have it around the three-foot mark. "I don't care about what the "in thing" is. I want the house to have character." I finally settled on a five-foot mantel because we were losing so much time arguing. I was forever saying, "Excuse me, but whose house is this, anyway?" I needed to be present constantly because they would get an idea that they thought was fantastic, and if I was not there to discuss it with them, they would just do it their way. One day, I was late arriving to the villa. The mason and plumber decided that my shower/tub would look much nicer if they moved the wall out a few feet inserting the tub into it giving the bathroom more room.
Villa after renovations.

They knocked it down, built it out and proceeded to place the tub in what was originally my den. They boasted that it would make the bathroom more spacious. What they did not take into consideration was that I did not live in my bathroom and I wanted a bigger den for my family. Upon my late arrival, the den was already three-feet smaller than it was to start with. Knocking down the wall a second time and doing it right was not anything they would contemplate. They barked that WE would have to pay for if we did not like it their way. It was mind-boggling! While attempting to hire a different company, due to no shows for example, the new contractor would refuse, because they knew the original company had already started the project. When I say "started" a project, I use that term very lightly, as all they really started was leaving their supplies in our house. While scheduled to work a job on Tuesday, they would not even show up for weeks on end. "Oh Yah, I'll be there next Tuesday," they would continue to promise. "Tuesday of what month?" is what I wanted to know. Of course, procrastination is characteristic of the Italian lifestyle. I would ask Mannie to call to see where the contractor was and he would reply, "Don't worry; he'll be here... eventually." Eventually, turned into weeks, which soon rolled into three months. I realized I was stressing Mannie, asking him to call all the time. It is just not in their DNA to rush. Being American, I always wanted everything done yesterday. Finally, I stopped asking him to call and started calling myself. Not that it helped much, but the squeaky wheel does get the oil... in due time.

All in all, we made eight apartments and eleven bathrooms. We added central heating, air-conditioning, updated the electrical system, added hot water, stripped and stained over 50 doors and windows, painted the outside (that hadn't been painted in 60 years), stained the wood floors that could remain and revamped anything that we could keep. It took 7 years to finish everything. I could have built multiple homes from scratch faster than that in the States!

We began renting the apartments on a monthly basis. Unfortunately, our tenants did not give two hoots about our property. They would break things without telling us, extinguish cigarettes on our linoleum floors, put their booted feet on our walls, and smoke in our (non-smoking) apartments. It cost us more to repair and replace things as they left than we made renting the apartments. We could not take it anymore! We had to replace floors with tile, re-paint and adjust everything that was not working. This was our "AHA" moment... "We'll open a Bed and Breakfast!" We saw that our B&B guests LOVED their accommodations and we could care for everything daily, so nothing got out of hand. It was a perfect idea! Our B&B is Villa Tre Angeli (Villa Three Angels). We welcome our guests as if they are family. Come experience Italy with us.
| | |
| --- | --- |
| | |
| | |
Follow Us
Featured Item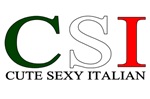 Shirts & Novelties
---
Partner Links Shops/Stores Italiansrus Gear
Proudly display the colors of Italy with these great products.

FORZIERI.com

The world largest online retailer for Premium Italian Fashions.
---
Travel