---
Resources
Art, Cuisine, Famous Italians, Festivals, Folklore, Genealogy, Holidays, Hotels, Photos, Real Estate, Sports, Travel and More
---
Guides
---
Surname Collection
Add your name to the collection.
---
Recipes
Authentic Italian recipes for you to enjoy.
---
Photo Galleries
Enjoy photos of Italy, wine making & more.
---
Proverbi
Proverbs in Italian & English.
---
Our Paesani
Weekly column dedicated to today's Italy.
by Francesca Di Meglio
---
Italian Memories
Articles on growing up Italian.
by Cookie Curci
---
Una Mamma Italiana
Articles for Italian mammas.
by Tiffany Longo
---
Learn Italian
English-Italian guides
Spanish-Italian guides.
---
Molto Italiano
Sign up for our FREE newsletter.
---
Trivia
Test your knowledge of Italy.
---
The Making of Villa Tre Angeli
Part 3: The Obstacle
Our wedding day.

I moved to Mannie's small town of Bedonia two months before the wedding in order to handle all of the details for the big day. I lived with him and his family who did not speak any English. One day he said to me, "Would you like to see where we will be living?" Enthusiastically I responded, "Sure, that would be great!" We walked out of his mother's house and walked to the house next door. "Ta-dah!" He showed me a villa that was not painted in over 60 years. It was dark and dismal. It looked just like the Munster's house and worse, a girl's biggest nightmare; it was right next-door to my ITALIAN mother-in-law! I went inside, only to find it was more ghastly than my first impression. All the electrical wires ran up the walls. One bare, twenty-watt light bulb dangled from the high ceilings in every room. There was no hot water or heat in the house. The massive structure only offered three bathrooms with tiny tubs, hand held shower nozzles, and a small sink with a spigot for cold water. I was horrified! I turned to my fiancé and winced, "We are going to live here?" with a quiver of fear in my voice. He could see the panic in my eyes. He reassured me, "Don't worry, we will fix it up!" A cold chill embraced me! The only thing I could think of was, "What have I done?" I was a girl that grew up in Spring Lake, N.J. I was not spoiled, but I certainly was accustomed to the modern comforts of life, and here there did not seem to be any.

The weekend of our wedding, it began to rain. We were getting married on a Sunday. Friday it poured. Saturday was worse. All I could think, was this had to be a good omen. It would rain so much that the clouds would not have a drop of humidity to spill on our wedding day. Boy was I wrong! It was the worst storm in 50 years. There was torrential rain, wind, thunder, lightning and flooding everywhere. We would marry in the church where my grandparents married seventy-five years prior. My whole family and some friends flew out for the big day. I dressed in the ancestral home, which was only five minutes down the mountain from the church. I hired a car to take my father and me to the church. I had four sisters, which were my bridesmaids whom also had to get to the church. Aldo, a friend of Mannie's was asked to drive, as well. Little did I know that when Aldo arrived at the house, he saw the professional driver and assumed we no longer needed his assistance. He never said a word. He slipped out and went on his own to the church. With all the commotion of the weather and getting ready, nobody noticed he was gone.

My father and I got in the hired car to drive up the mountain. Although It was 3:45 pm on a September afternoon, it was black as night! A quick run to the car which was approximately a 10-foot jog, left us absolutely drenched. We began to drive up the road in the pitch dark. I turned to see if the car with my siblings was behind us. There were no headlights following. "Stop!" I shrieked. "We have to go back! I won't get married without my sisters!" Our driver turned the car around reluctantly on that narrow mountain road and headed back home, only to find my brother-in-law running around the tiny rental car in the pouring rain trying all the doors. It was locked and my father had the keys in his pocket. They would have gotten nowhere fast! With the keys now in hand, my sister Laura, the Maid of Honor, came with us and the others squeezed in the rental. Up the mountain we wound. Much to my dismay, the car came to a screeching halt! There was a tree down in the middle of the road. What were we going to do? My father was not about to get out of the car in his tuxedo. He had to walk the bride down the aisle. We sat there in silence for a few seconds. Then the driver decided that there was no other way than to do it himself.

He got out of the car, but headed to the back. He opened the trunk. I said to my family, "What the heck is he doing?" None of us understood, until he came back wearing a shower cap upon his little, white head. We were laughing hysterically at the site. He tugged and he pulled at this tree as the rain came down in buckets. The only time we could see him was when there was a flash of lightning. Then with the last pull on the tree, he split his pants right down the middle. He was wearing a black suit, standing on a dark street, and then there was a streak of stark white undies gleaming in our eyes. We lost it! My sister was up front trying to capture this Kodak moment on film. My father and I were trying to compose ourselves in the back. However, when Sergio, our driver, got back in the car there was no way we could contain ourselves. Tears were dripping down our faces and stifled giggles became roars. We continued to drive up the incline in silence. Every once in while a burst of laughter escaped our lips.

Further, up the bend we found a pipe for methane gas that was in the process of being laid. It was pushed into the road from the heavy water rushing down the mountain. Sergio once again entered the trunk, dressed in his faithful shower cap and struggled to move it out of our way. He truly was my hero, as there was no other way I could have gotten to that church.

What was supposed to be a 5-minute drive ended up being a 45-minute grapple. The opened church doors and the rain streaming down from the bell tower assisted in creating a lake in the vestibule. Unbeknownst to me, I scurried into the church and dropped my velvet train, only to find it sponging up the water that had accumulated.

In Italy, it is custom to roll out a red carpet for the bride. With all the delay that the weather had caused, Mannie was still standing at the altar waiting for me. He was so handsome. He was so happy. I could not wait to make my way up the aisle to join him, but my dress was so heavy it felt as if there was a kid sitting on the train as it dragged along that red carpet behind me. By the time I made it to the front of the church, my ivory train ended up being pink. Though the ceremony went wonderfully, we really wanted a candle light wedding. However, the priest thought it to be frivolous. God, however, must have disagreed, because half way through the mass, he sent a bolt of lightning that left us in total darkness. This caused the altar boys to scurry around lighting the candles, giving me the wedding I always dreamed of having. It was magical.

Our guests escorted us to the reception, which was just across the street. Due to the storm, our wedding cake almost did not make it to the party. Mannie's friends played relentless, practical jokes on the poor unsuspecting bride. We laughed, we ate…boy, did we eat… and we danced the night away. At the end of the festivities my new, Italian mother-in-law took me by the hands and said, "Valeria, Bravissima, hai fatto bene!" translating to "Valerie, good job, you did well!" I do not think I could have received a bigger compliment than that. I handed her the top tier of our wedding cake and asked her to put it in the freezer. Content with our celebration we retired to the Ancestral home for our first night as husband and wife. In the morning, we flew off to Thailand for our honeymoon.

When we got home, I asked my mother-in-law where she put the cake. Now, I know every culture has its differences, but we had high hopes of having that infamous (freezer burned) piece of wedding cake on our 1st anniversary, as tradition requires. Her very proud response was, "I invited my friends over and we ate it! It didn't go to waste."
| | |
| --- | --- |
| | |
| | |
Follow Us
Featured Item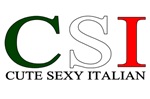 Shirts & Novelties
---
Partner Links Shops/Stores Italiansrus Gear
Proudly display the colors of Italy with these great products.

FORZIERI.com

The world largest online retailer for Premium Italian Fashions.
---
Travel Tour Italy
Customize your trip to Italy.