---
Resources
Art, Cuisine, Famous Italians, Festivals, Folklore, Genealogy, Holidays, Hotels, Photos, Real Estate, Sports, Travel and More
---
Guides
---
Surname Collection
Add your name to the collection.
---
Recipes
Authentic Italian recipes for you to enjoy.
---
Photo Galleries
Enjoy photos of Italy, wine making & more.
---
Proverbi
Proverbs in Italian & English.
---
Our Paesani
Weekly column dedicated to today's Italy.
by Francesca Di Meglio
---
Italian Memories
Articles on growing up Italian.
by Cookie Curci
---
Una Mamma Italiana
Articles for Italian mammas.
by Tiffany Longo
---
Learn Italian
English-Italian guides
Spanish-Italian guides.
---
Molto Italiano
Sign up for our FREE newsletter.
---
Trivia
Test your knowledge of Italy.
---
The Making of Villa Tre Angeli
Part 2: The Misunderstanding!
Mannie in his butcher shop.

The day after Mannie had given me that knee-buckling kiss on the neck, he returned with his guitar. He and some other friends of ours sat at the table. We struggled to convey our thoughts as we did the night before. We were having so much fun because the man was quite comical. Toward the end of the evening, Mannie leaned over to me and whispered, "Ti desidero," then swiftly ducked outside. I thumbed through my faithful, pocket dictionary. I found the word I did not understand, Desidero... "Desire." Holy Cow! He desired me. I was left sitting very anxiously at the table with these friends. I needed to get outside to talk to him, but I did not want to make a scene. I calmly composed myself. I looked for an excuse to leave the room. I glanced around, and noticed he had left his guitar. I grabbed it and said to the others, "Oh my, he forgot his guitar!" With that, I ran outside to see where he was. He was leaning against the side of the house waiting. I said, "What are you doing out here all alone in the dark?" In his broken English he replied, "Waiting for you." He grabbed me and gave me a passionate kiss. He made me light-headed! Then he whispered, "Where can we go?" My head was spinning! I could not believe what was taking place. The last thing on my mind was a man, but there he was. I suddenly shook off the moment and came to my senses. "I'm so sorry. I'm not that type of girl!" He kissed me again gently, and said, "You are right. I shouldn't ask you that." He held me for a moment and then we went back inside to join the others. As he was leaving, I handed him his guitar. He said, "NO, NO! I leave it here." I knew this was an excuse to continue coming to visit me!

We did so many things and had so much fun. However, I still could not wrap my head around the fact that his name was Manfredini. I had never heard that name before. So I continued to inquire. "Are you sure your FIRST name is Manfredini?" He contemplated the question and then responded, "Yes." When he signed his credit card, he would sign Manfredini Giancarlo, never a comma between the two names. This indicated to me that Manfredini was, indeed, his first name. Six weeks flew by.

Karen and I had much more traveling to do, but she could only stay in Europe for nine months, as she was running low on funds. I would continue to stay for the pre-planned ten months. After her departure, I would spend the remainder of my stay back in a hotel in Gattorna, the town where I first met Mannie. I wanted to get to know him better. Every other night, Mannie assiduously drove that serpentine road to spend time with me. He would work at the butcher shop, shower, then zigzag through the mountain pass to see me for just a few hours.

One day while chatting, the subject of children came up. I made the comment, "I would NEVER name one of my kids MANFREDINI!" He never said a word. I was sure he knew I did not like that name. He finally invited me to HIS side of the mountain. I was so excited to see where he lived. I hopped the bus and asked the driver to tell me when we arrived in Bedonia. As we took the last curve, he leaned over and said, "There she is!" I looked out the windshield and saw through the trees, a beautiful town of lights glistening in the valley below. The bus stopped at the quaint town plaza. Mannie took me to a restaurant on the other side of town. He introduced me to the chef, ordered for me, and promptly excused himself. "What? You're leaving me here by myself!" He explained that he needed to be home for dinner if he wanted to be out late. He kissed me as he disappeared. I could not believe that he would just leave me like that. But God was good; he left this doubt in my head for the cultural differences, which made me much more tolerant than I was for a mere American.

I ate my supper solo. The chef was quite nice to keep me company for part of the evening. Mannie returned about an hour later. We went dancing. He kept looking around to make sure no one knew him. I thought, "What's the matter? Why doesn't he want anyone to see us together?" I wrote it off as strange, but I was not compelled to ask him why. At the end of the night, he took me to the butcher shop! I knew his father had owned it first. The name on the window read Macelleria Manfredini..."Butcher shop Manfredini." Mannie has an older brother, so my questions seemed very logical. "Your father's name was Manfredini, too?" "Yes," he replied with an odd inflection in his voice. "Why wasn't your brother named Manfredini?" He just shrugged and said, "I don't know."

In the rear of the Butcher shop, a spare room is where I slept. In the morning he told me he had to have lunch with the family. I excitedly replied, "Great, I would love to meet them!" "No, no, you can't come. I need to have lunch and then I can spend all day with you." I was having a very hard time wrapping my head around the differences in this culture. He finally explained that he had never told his family that he had broken up with his old girlfriend. He had lost his father that summer and his mother was so fond of this girl, that Mannie could not find the right moment to tell her. Since the town is so small, he never mentioned it to his friends either. She was not there enough for the villagers to know about the divide, so it was easy to say nothing. Upon his return from lunch, he brought me a few slices of salami and away we went for the day.

I returned to America on December 15th. I cried my eyes out on the bus as it pulled out of Gattorna, a town that began to feel like home. My parents were surprised to learn that an Italian man was coming to visit for three weeks just after the New Year. The worries were many and the questions were not few. My mother invited the entire family. I have five siblings, one of which was married with two children. My aunt, uncle, and cousin were invited as well. Mom set the table as she usually did with the china, silver, and crystal. I was so worried that all of this would overwhelm Mannie since he was a simple man from a small town. However, my mother wanted to welcome him warmly. He did not seem fazed by the table or the large group surrounding it.

Mannie stayed for three weeks. He met everyone. My family, friends, relatives and all who met him loved him! Though everyone found him delightful, no one could comprehend how we understood each other so well. Hearing their concerns so often, I assured everyone that we understood each other perfectly!

The last night of Mannie's stay, we were sitting on the couch talking. By this time, we had been dating for nine months and he told me a story of when he was a little boy. He had a nightmare and his mother came running into his room yelling, "Giancarlo, Giancarlo what's the matter?" I looked at him with complete bewilderment, "What? That's like my mother saying Raffetto, Raffetto!" Silence fell upon us as his face lost all color. He meekly sputtered, "Oops, I think there has been a misunderstanding!"

"WHAT?" I heard myself exclaim! Strangely enough, people in Italy often call each other by their last name. They sign their credit cards last name first, and first name last, never using a comma. When I asked him if he was sure that his first name was Manfredini, he thought that the FIRST name must be the most important, so that must be the surname. When I had said I would never name a child Manfredini, he thought I wanted to give them my last name. When I asked why his brother was not named Manfredini, which would have cleared up everything by simply saying, "He is a Manfredini too." Mannie just did not understand what the heck I was talking about. So he muttered, "I don't know" At any given moment during one of those conversations things could have been transparent, but he never said he did not understand, and I accepted all as cultural differences.

With my tail between my legs, I had to explain to all of my family and friends that after all this time dating this nice Italian man, whom I thought I understood completely, there had been a little misunderstanding. I actually did not even know his name.
| | |
| --- | --- |
| | |
| | |
Follow Us
Featured Item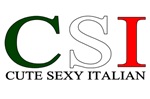 Shirts & Novelties
---
Partner Links Shops/Stores Italiansrus Gear
Proudly display the colors of Italy with these great products.

FORZIERI.com

The world largest online retailer for Premium Italian Fashions.
---
Travel Tour Italy
Customize your trip to Italy.